National Center for Housing and Child Welfare - Giving Children and Youth a Voice
Date 5/24/2021

"1-4-3." It's a code that beloved children's television star Fred Rogers would say to his friends in the neighborhood — and it stands for the number of letters in the words "I love you."

Started in 2019, Pennsylvania Governor Tom Wolf has declared May 23rd (or May 22nd in 2020 which is a leap year) — the 143rd day of the year — "143 Day," a day to celebrate and honor the Pittsburgh, Pennsylvania native's kindness by following his example. According to the Fred Rogers Center, the number was a reminder of compassion and kindness, and it meant a lot to everyone's favorite neighbor.

Psychic Source is proud to share a message from Ruth Anne White, the Executive Director of The National Center for Housing & Child Welfare. Find out how you can help support the NCHCW and our other deserving charities below.
The Psychic Source Kindness Initiative embodies the spirit of "143 Day" by giving children and youth a voice.

"We live in a world in which we need to share responsibility. It's easy to say, 'It's not my child, not my community, not my problem.' Then there are those who see the need and respond. I consider those people my heroes." - Fred Rogers
As the country adjusts to unprecedented disruptions and uncertainties, it is more important than ever to take time out to reflect on the life and legacy of Mister Rogers – who taught so many of us how important it is to be kind and helpful during times of crisis. The foster youth we work with at the
National Center for Housing and Child Welfare
have experienced unimaginably difficult childhoods and many found solace in the lessons and encouragement offered by Mister Rogers. They have also benefited immensely from the generosity that he inspired in others to share their resources and even their homes through adoption and foster care.
The support that we have received
Psychic Source Kindness Initiative
has enabled us to work alongside young people to meet their emergency housing needs and to increase permanent housing resources and supportive services to end homelessness. In less than a year, we have helped 600 youth move into their own apartments and find the stability they need to thrive. We also provide a national platform for youth to give back, something Mister Rogers would find equally important.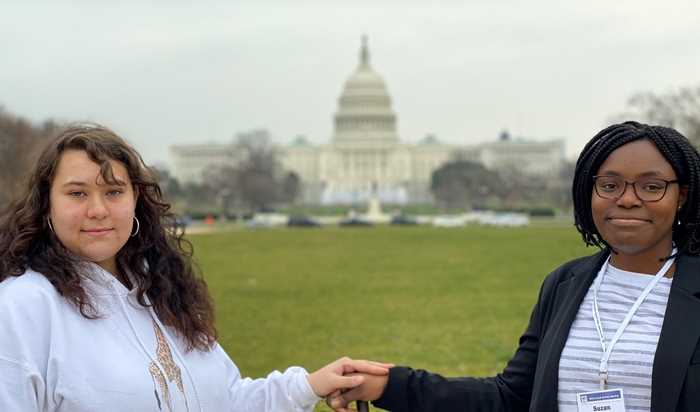 April McCullen and Suzan Nambi in Washington, DC on March 7, 2020 encouraging child welfare officials to expand housing options for youth leaving foster care. Photo Credit: Ruth Anne White.
For example, earlier this spring, Suzan Namdi and April McCullen, former foster youth from Colorado who faced homelessness when they left foster care, both moved into their own independent apartments. Suzan is studying to be a nurse and April will study conservation as an intern at Yosemite National Park as soon as travel restrictions are lifted. Despite their busy schedules, they took time out to travel to Washington, DC to increase awareness about the new permanent housing program they are participating in called, the Foster Youth to Independence Initiative. Since their visit, the U.S. Department of Housing and Urban Development has issued housing vouchers to 120 more youth.

The impact of this work is felt nationwide – and with this support we have been able to involve youth from all over the US in the housing resources and in the advocacy efforts. Natasha Davis from Ohio perhaps captured the essence of how youth share responsibility for each other through the Kindness Initiative when she recently said, "Be your own best advocate. Only you can make the choice to know your value, share your voice. Be a voice for yourself and then become a voice for others."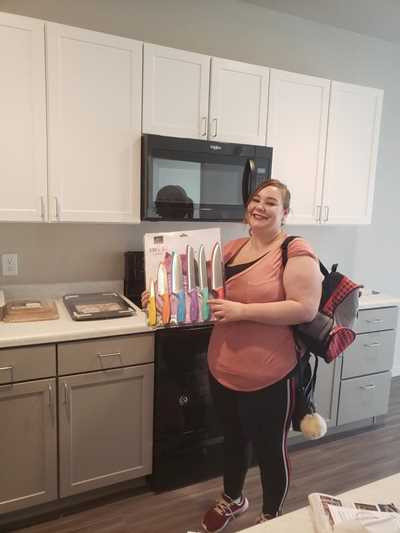 April McCullen on her first day in her own apartment April 2020. Photo Credit: Allison Pearce
When Fred Rogers accepted his Emmy in 1997, he encouraged the audience to take ten seconds of silent reflection to have helped. In honor of "143 Day" all of us at NCHCW will spend the day reflecting and sharing our gratitude on May 22 to thank all of you who have contributed to our work through the Kindness Initiative. In addition to your invaluable acts of kindness, we wish you all a day of quiet reflection and peace as well.
For over 30 years, Psychic Source has been helping customers by providing wisdom and guidance to achieve their best selves. But we knew we could do more. With your help, we can touch the lives of others across the globe with the Psychic Source Kindness Program and the great charities you can help support with your purchases.

We thank you for your compassion, gratitude and help making the world a better place.