National Center for Housing and Child Welfare: A Head Start on Housing Stability for Families and Youth
Published Date 7/10/2017
Category: Kindness
---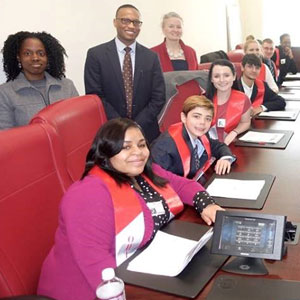 Psychic Source's number one goal for almost 30 years has been to help individuals become the best version of themselves, with mental and emotional health, peace, child abuse, and animal welfare at the forefront. To reach a larger audience and make an impact worldwide, we developed the Psychic Source Kindness Program. With no additional cost to customers, we donate 1% of all purchases to the pre-selected charity of their choice.
As part of these efforts, we've partnered with the National Center for Housing and Child Welfare, which works to eliminate youth homelessness and provide growth and opportunity to families in need. The NCHCW has shared "Sheila's" inspiring story with us to show exactly how our contributions can transform and impact lives. They are beyond grateful for your support!
Sheila (we are using this name to protect her identity) grew up in foster care. During the fall semester of her senior year, while all of her classmates were anticipating the next bonfire, football game, and the Homecoming dance, Sheila spent her days in a state of near panic. This is because her foster parents informed her that on her 18th birthday, just a few months into the school year, she was going to be released from state custody and at that time, she would no longer be welcome in their home. She knew that her birthday present was going to be a bus ticket to a homeless shelter – and on her birthday, that is exactly where she went.

Despite being alone in the world and homeless, Sheila continued to go to school and earn straight As while living in a shelter for adult women. Shortly after entering the shelter, a street outreach team informed her that she was eligible for a subsidy to rent her own apartment and a savings account – as well as regular interaction with other youth and a case manager. This is because homeless youth and former foster youth are eligible for rental assistance through a U.S. Department of Housing and Urban Development initiative called the Family Unification Program (FUP). FUP provides funding for permanent housing for families and youth who are involved with the child welfare system.

Using a FUP voucher, Sheila moved into her own place and finished high school. She graduated with honors and earned a scholarship to the University of Colorado and then went on to finish law school at The Catholic University of America and now practices law.

Sheila's accomplishments are extraordinary – but her story of being released by the foster care system into homelessness is not; sadly, it is commonplace. Nearly 50 percent of former foster youth experience homelessness within one year of aging out of the system. This isn't the only way that America's affordable housing crisis impacts the child welfare system. It is also a shameful truth that more than 22,000 children (or ten percent of the total) are placed into foster care each year because their families are homeless.

National Center for Housing & Child Welfare
This is why the
National Center for Housing and Child Welfare
(NCHCW) is dedicated to illuminating the experiences of youth and families in child welfare, training professionals to prepare youth and families for housing stability, and ensuring that government resources are used efficiently to fund permanent housing and supportive services.

First and foremost, we make sure that the youth and families who experience what it is like to be homeless and interact with the child welfare system meet directly with elected officials and federal agency leadership to share their stories. Each spring, we sponsor a group of foster youth and arrange for them to share their stories and ideas for improvements with policy makers. Their heartbreaking and often uplifting narratives have an amazing impact. For example, this spring, Congress added $10 million for new FUP vouchers, and extended the amount of time that youth, like Sheila, can keep their housing subsidy from 18 months to 3 years.
That said we can't expect youth and families to do all the work to improve the broken foster care system and solve America's affordable housing crisis. With this new and generous funding from the
Psychic Source Kindness Program
we are able to accelerate the pace of reform in the child welfare system and train professionals, free of charge, to use public resources wisely to give child welfare families and every young person who ages out of foster care a head start on housing stability.
We are immensely grateful for your support which allows us to honor the example Sheila set for her peers by creating the kinds of housing opportunities that, overtime, might make her extraordinary accomplishments a little more commonplace – and homelessness no option at all.
More About NCHCW:
NCHCW secured $10 million in new funding to provide HUD rental assistance for youth and families in 2018, enough to provide permanent housing for 900 youth and families each year.
NCHCW brought 13 foster youth ages 15-21 to Capitol Hill and the U.S. Department of Housing and Urban Development to share their stories and design housing programs that are best for youth. During these visits, the young people convinced Rep. Mike Turner (R-OH) and Joyce Beatty (D-OH) to introduce Fostering Stable Opportunities Act of 2017 on April 10, less than a month after their visit.
NCHCW co-hosted a briefing on Capitol Hill with the Child Welfare League of America and the American Psychological Association on the importance of early childhood education access for young children who are homeless, highlighting the elements of the Homeless Children and Youth Act of 2017
Funding from the Psychic Source Kindness Program also allows NCHCW to work free of charge directly with families and their attorneys to access affordable housing. In the first six months, we have been able to intervene to keep 19 young children in their families, and avoid foster care placement simply due to homelessness. We've also trained over 300 professionals out in the field.
NCHCW uses a mix of contracts and private donations to leverage public funding for housing assistance. Any public funding NCHCW is able to leverage, such as FUP funding goes directly to support permanent housing and financial investments for youth and families.
More than 90 cents of every dollar to NCHCW goes directly to support our mission.

Learn more about the Psychic Source Kindness Program and the great charities you can help support with your purchases.
Thank you for your compassion, gratitude and help making the world a better place.
Share This Page
---
Leave A Comment
You must be logged in to leave a comment. click here to login
Comments