---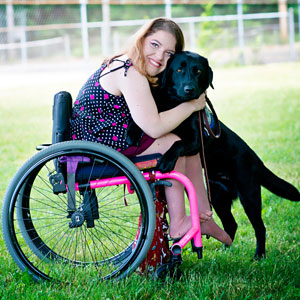 by Paws With A Cause

Anna sits in the middle of the sidewalk looking at the ground where she dropped her keys. Looking around, she doesn't see anyone who can assist her, so she waits. Then it dawns on her that she does. "DINO, take it," Anna says and then smiles as she watches DINO, her goofy and enthusiastic black Labrador Retriever, scoop up the keys and bring them to her lap.

Anna has always been someone you can depend on for everything, but before DINO she had to depend on others for her daily needs. Anna lives in a family who has been fostering children since she was young. She cherishes the friendships of her 16 sisters from 9 countries. But some days spina bifida and cerebral palsy make it hard to be the best friend and sister she wants to be.

But now with DINO, things have changed.

In addition to retrieving dropped items, DINO closes the door for Anna and helps her dress. She no longer has to rely on other people so she can focus on the things that are important to her – her friends and family. "I have dreamed of getting a Service Dog since I was a little girl. DINO is not only a dream come true, he is beyond my wildest dreams. Thank you!"

Anna has a future full of promise now that she has Service Dog DINO by her side.
We'd love to read YOUR kindness story, big or small. Click HERE to share your story with us.

To learn more about PAWS With a Cause®, visit their website.
Share This Page
---
Leave A Comment
You must be logged in to leave a comment. click here to login
Comments