---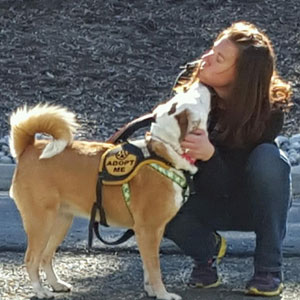 by Kristin – Psychic Source

I still remember the first day I walked into the no kill animal shelter. The smells and sounds of dog barking, all just wanting my attention for a little love. It's amazing how high a dog can jump in a 4-foot space just wanting to catch the attention of who is waiting out front. Pick me, pick me is what I can imagine they are saying.

As I met with shelter manager Bob he said, "who do you want to walk today?" Having no idea, I let him choose for me. Feeling overwhelmed with emotion I grabbed a handful of poop bags and headed out to the yard with my new friend Bella. We spent about two hours together walking, running, sniffing and just basking in the sun. When I went back the following week it was with delight that I found out Bella had been adopted. So, a new friendship began with Reise. Yet another week passed and I was back. This time to once again find out that Reise had been adopted. Wow, I think I'm a luck charm!

Sarah, Randy, Petey, Sunny, Sandy, Sammy, Sanders, Rufus, Tina, Luna, Timmy, Heidi… the list has become so long it's hard to remember how many wonderful dogs I've gotten to know. I'd like to think they'll remember me, but who really knows. But for that hour, day, week or even 8 months they had a friend. And when they walk out the door of the shelter I can imagine them saying "she picked me" but really, I'd pick them all if I could.

Each visit I softly say, "I hope I never see you again" to some they are hard words but to me they are words of hope, I hope to never see them again because they found their forever home!
We'd love to read YOUR kindness story, big or small. Click HERE to share your story with us.
Share This Page
---
Leave A Comment
You must be logged in to leave a comment. click here to login
Comments