Cal's Story - A Life Improved by a Service Dog from PAWS With A Cause
Published Date 1/2/2020

Psychic Source received a copy of a letter sent to PAWS With A Cause we want to share with you as part of our Kindness Program.

Find out how you can help support PAWS and our other deserving charities at the end of the letter.

Dear PAWS,
Every day we see the ways your gifts transform the lives of people with disabilities through custom-trained Assistance Dogs. And, we see that impact multiply as it spreads from each client to their entire family. Families grow closer, worries fade, and hope flourishes – all because of a PAWS® Assistance Dog. Your gift to
Paws With A Cause®
is giving brighter futures to families like Cal's.

It hasn't been an easy journey for Cal and his family. Cal has been in therapy since a very young age to help him cope with behavioral issues. By the time he reached fourth grade, Cal had such violent episodes that he was placed in a Special Education classroom with padded isolation areas. He would run away from school and his parents could only find him because of a GPS device attached to his clothing. His parents, John and Brandy shared, "We had lost hope of Cal being independent... ever."

What made things even worse was the delay in an appropriate diagnosis for Cal. Doctors ruled out autism since Cal was able to maintain eye contact with others. But when Cal's family moved to Michigan, they made an appointment at the University of Michigan Autism Consultation and Treatment Services program. At the initial visit, the doctor diagnosed Cal with autism.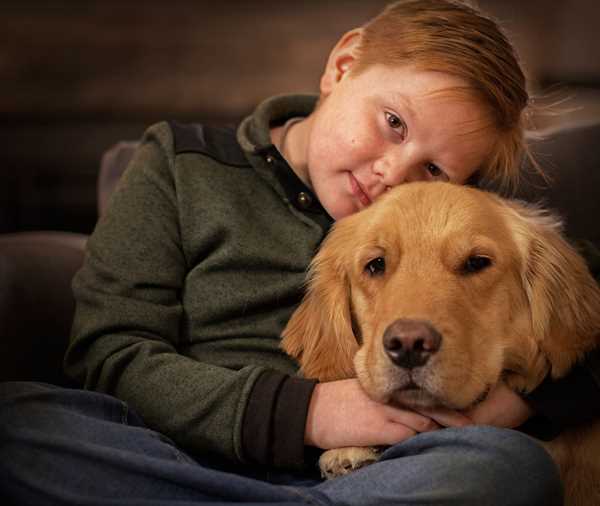 Even with a new diagnosis, the family was living under catastrophic stress. Cal's behavior escalated to the point that his younger brother went to live with his grandparents and his older sister stayed with friends. They even discussed having Brandy live with Cal separately and John live with their other children to relieve them of the stressful environment. John explained, "Cal was absorbing 95% of our time and effort. The other children got the remaining 5%."
Cal and his mom were preparing to move into an inpatient treatment program when they received a call from Paws With A Cause. A few months earlier they had applied for a Service Dog for Children with Autism (SDA Dog). PAWS thought Cal's needs were a perfect match for SDA Dog ARTY.

So instead of traveling to inpatient treatment, Cal and his parents traveled to PAWS to pick up ARTY. Cal and ARTY bonded immediately. Within 30 minutes of meeting each other (and in front of strangers), Cal removed his hoodie – a hoodie he had worn day and night – to comfort himself. What made him do this? Cal said, "ARTY makes me feel safe, happy, and warm."

The impact of having an Assistance Dog has been life changing for Cal and his family. When Cal is having a difficult time, his parents tell ARTY, "Cal needs you!" and ARTY finds Cal. ARTY helps Cal control his behavior by providing him with a focus that settles him. Not only that, but Cal's medication dosage has also been lowered since bringing ARTY home.

One of the biggest changes for Cal is in the classroom. Even though ARTY does not accompany Cal to school, his teachers report a profoundly positive change in Cal's behavior; and this fall, Cal was mainstreamed into some general education classes.

Just having ARTY by his side changes the way people perceive Cal. His sister says, "People can treat Cal so poorly sometimes. This has changed since ARTY because he signals that Cal has an Assistance Dog for a reason." Brandy adds, "Now we hear, 'Can we help you? Can we offer you a quiet space?'" instead of receiving angry glares and rude comments.

The future looks dramatically different for Cal. Before ARTY, Cal could not be physically alone. Cal would not go to the bathroom or take a shower by himself. Because ARTY accompanies him, Cal is doing these tasks independently. Now his parents are showing Cal all the ways he can be successful and contribute to society. Cal sums it up by saying, "Before ARTY, I could not go to college, move away, get married, have a family. Now all those 'can'ts' are 'cans'!"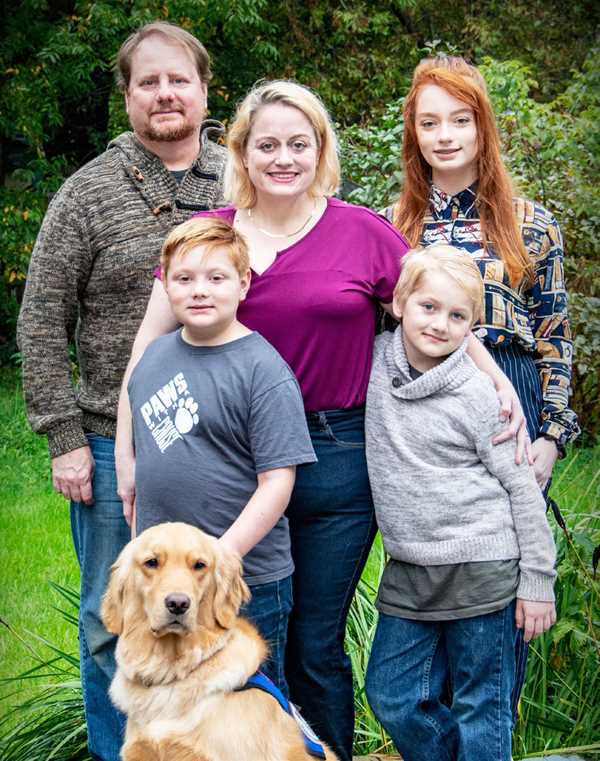 But ARTY is doing more than helping Cal – he is improving the lives of the entire family. Now Cal's brother enjoys doing things together as a family without having to split up. His sister relishes that their home is less chaotic so she can relax. Cal's dad exclaimed, "My wife and I went on a date! We are getting our time back." Cal's mom is considering returning to work full-time and adds, "We now have a new definition of normal. This normal is doable, happy, and calm."

Your generosity makes these profound changes possible for individuals and their families. With every gift, we are one step closer to giving an Assistance Dog to a waiting PAWS Client. TOGETHER WE CAN enhance the independence and quality of life for people with disabilities.

With gratitude and best wishes,
Douglas J. Dok, Jr.
PAWS With A Cause Board Chair
For 30 years, Psychic Source has been helping customers by providing wisdom and guidance to achieve their best selves. This got us thinking, "How can we do more to help society as a whole?" Together, we have the power to be part of something bigger. With your help, we can touch the lives of others across the globe.



Thank you for your compassion, gratitude and help making the world a better place.