Be Kind to Humankind
Date 1/2/2020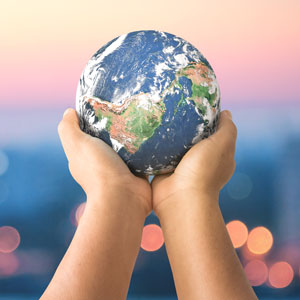 Earlier this year (August 25-31) we observed Be Kind to Humankind Week on our
Facebook page
. As part of the celebration, we asked for you to share your stories of kindness or about someone who warmed your heart recently. We received an impressive amount of responses and loved reading them all.
In case you missed it, below are 10 of your stories featuring all types of acts of kindness, proving that size doesn't matter when it comes to being kind.
Even the smallest of kind gestures can have a large impact.

Carrie Anne J.
Thank you so much for giving us the opportunity to share our stories and giving kindness to the universe! Although I share my heart to anyone at any time I can, here is one of my acts of kindness, however small, but enough to make someone's day! I was driving home and saw what I thought was an older woman walking with a couple bags in her hands and a pizza. She kept dropping things. I turned around, got out and walked up to her. As I got closer, I realized it was actually a young man. I asked if I could help him carry his stuff back to where he lives. He was sooo grateful that he stated to cry. In that 15 min walk, he told me his life story and how there are not many people like me and for God to bless me.

Lanette H.
I am from a family of 12. My mother cooked for the homeless for years and she's always taught us how to pay it forward. As an adult each payday I go to two fast food restaurants and pay for the cars behind me. Then I purchase breakfast sandwiches for the homeless shelter near my job.

Mary P.
My neighbor upstairs lives alone and is elderly. He falls on a daily basis. I check on him all the time and found a family member who gave me their number to keep them posted. I found out he's a veteran and trying to get benefits for himself. I contacted my dad who is also a veteran and now he is helping the gentleman get his benefits. We also bring him meals regularly, so he at least eats.

Bella V.
I was at the beach. A little 7-year old boy who I didn't know, walked over to me and handed me a beautiful flower.

George T. Jr.
I had retired from my job but noticed next to the building under construction, was a new Blood Bank. I made a phone call asking to be the first Donor when they opened. I was, and I was the only donor in there. I started donating blood in the 80s. Since then I have donated well in excess of 10gal of whole O- blood. Each time I feel great.

Traci B.
My random act of kindness was I found an elderly man on a broken scooter at Walmart. No one was helping him. Even though I had very little time, I thought- if this was my dad, I'd wish for someone to help! So, I asked him, and he was so thankful. I put my stuff back, went to the front and got him a scooter and helped him shop. He was so thankful, and I loved every minute of it.

Pearl H.
Well I'm always kind. I give what I can and have taken people into my house to get them back on their feet. I also work in a nursing home and I love every single one of the residents that I clean for. When they pass away, a part of me passes away, especially the ones with no family at the end. I pray for them. I talk to them. I stroke their heads. I try to be their family. Over the years I have given away things to people in need because if I can help someone, I'd rather help someone. I don't have a lot of money, I'm not rich. I just live within my means, pay my bills, try to do good and try to do what God tells us to do. Love each other, help each other and be kind to one another.

Kim E.
I am in the short sale business helping homeowners avoid foreclosure. I took a file in that came with a squatter. He was homeless vet. I let him stay through winter so he would have a roof over his head. Then I asked the new buyers to give him some money to help him relocate.

Amanda L.
I saved nine baby bunnies from a hawk in my backyard. They are now at our local Wildlife Center.

Chellsey M.
I'm a single mom of two that took in my friends' child before he lost him to social services. I drove across the country just to pick him up to ensure he had a loving home. Even if I cannot change the world, at least I can help change his world. He's fitting in very well with our family while I have him. Protect all children, even if they're not yours
If you'd like to read even more stories of kindness, you can view the
full post on our Facebook Page here
.
For 30 years, Psychic Source has been helping customers by providing wisdom and guidance to achieve their best selves. This got us thinking,
"How can we do more to help society as a whole?" Together, we have the power to be part of something bigger. With your help, we can touch the lives of others across the globe.


Thank you for your compassion, gratitude and help making the world a better place.