Amy's Story - Building Confidence with Service Dogs from Paws With a Cause
Date 1/2/2020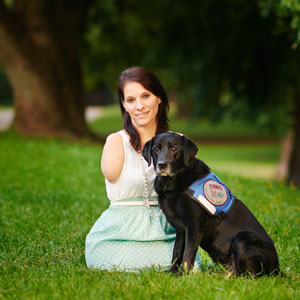 -- by Paws With A Cause

Amy stared at the pencil on the floor while sitting in class. By the age of 13, she had already overcome challenges we could never imagine. She had learned how to get up and down the stairs without legs. She learned how to create beautiful pieces of art without hands. But for a shy girl like Amy who was determined to be independent, retrieving her pencil was insurmountable because it meant asking someone for help. As her teacher continued to lecture, Amy wondered what she was going to do. Looking around she saw her classmates taking notes. Amy sighed, listened to the lecture, and hoped she would be able to remember everything that was covered.

You see, Amy was born with congenital tetraphocomelia, which means that she was born without arms and legs. "Growing up, pretty much everything was a challenge. Everyday living is a challenge. We use our hands for everything, like taking notes in class," shared Amy. But her family was encouraging. "My parents never treated me as if I was handicapped. My brother taught me how to get up and down the stairs. My sister taught me art. They were there for me, whatever I needed."
When Amy was in seventh grade, her science teacher approached her mom with the idea of getting a Service Dog from
Paws With A Cause

®
Growing up with animals, Amy loved the idea and her mom agreed. "My parents always encouraged my independence. I think that is one of the reasons they liked the idea of me getting a Service Dog."

The family applied to PAWS® and two years later Amy met JADE a Golden Retriever Labrador Retriever mix and she was immediately smitten. "She was taller than I was," Amy laughed. She quickly started seeing the benefits that JADE could provide. JADE opened and closed doors for Amy, retrieved dropped items, and even sat behind her allowing Amy to lean back and relieve some of the pressure in her back. In addition to the tasks that helped Amy physically, she also started to notice an increase in her confidence with JADE.

JADE and Amy were a team for nine years. When JADE passed away Amy was devastated. "At the time I was so heartbroken that I didn't want another dog. I didn't want to deal with the heartbreak again." It was a visit from her Field Representative that changed Amy's mind. PAWS has a network of Field Representatives who work with each of our clients one-on-one. When Amy's Field Rep visited, she brought her demo dog FAWN, a small sprightly black Lab. After spending a little time with FAWN, Amy said, "If you can find me one like her, I will take one."

Six months later, a small, black Labrador Retriever came trotting into Amy's home and heart. "When LOGIC came, it was like she knew that she was meant for me. She came into the house holding her leash in her mouth, walked over to me, sat on what little lap I have, threw her head back, and looked at me."

In addition to the tasks that JADE performed for Amy, LOGIC was also trained to take the covers off Amy in the morning. "At night I used to have to decide at the start whether I would want the covers on or off because I couldn't get them off by myself. I end up wrapped up in a burrito most nights and LOGIC uncovers me every morning."

Amy's family also installed a chair lift that is stored in the floor so that Amy can easily get on and off. LOGIC learned to open and close the trap door so Amy could get to the lift. "This alone makes me much more independent because I can get up and down the stairs all the time."

While JADE and LOGIC were both trained to perform tasks to help Amy with everyday living, one of the largest benefits that Amy didn't anticipate was the confidence that they gave her. "People notice LOGIC before they notice me. I would rather that people come up and ask questions than stand in the distance and stare. LOGIC is a great icebreaker."

LOGIC also helped Amy overcome her fear of public speaking. A few years ago, Amy was approached by an author who was interested in sharing her story. While Amy initially declined, she eventually agreed. "I wanted to share my story and offer encouragement to people who think they can't do things in life with what they have. I prove to them that they can do anything with what God gave them."

With the publication of the book came speaking events. "I am definitely not built for being in front of crowds or doing interviews. They always make me nervous. My first event they threw me in front of hundreds of people in a huge church. But when I have LOGIC with me, she calms me down."

Every day we see the impact that PAWS Dogs can have in the lives of clients. Amy transformed from a shy young lady who hesitated to ask a classmate for help to a motivational speaker and author who reminds people every day that they can make a difference, no matter their circumstances. JADE and LOGIC have made an immeasurable impact in Amy's life. An impact that would not have been possible without your support.


Since 1989, Psychic Source has been helping customers by providing wisdom and guidance to achieve their best selves. This got us thinking, "How can we do more to help society as a whole?" Together, we have the power to be part of something bigger. With your help, we can touch the lives of others across the globe.

Learn more about the Psychic Source Kindness program and the great charities you can help support with your purchases.

Thank you for your compassion, gratitude and help making the world a better place.