---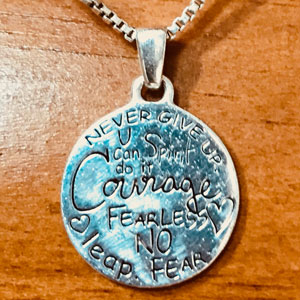 by Maryanne - Psychic Source

In the spring of 2011 I was diagnosed with breast cancer. As I'm sure you know, a cancer diagnosis is terrifying. One of the hardest parts of the journey is the waiting... waiting for test results, waiting for determination of treatment regimen, waiting to get to the end of what may be a very long road.

It was the morning of the appointment with my oncologist where "final" test results would be discussed, and I would learn if chemotherapy was a necessary treatment. You can probably imagine the emotions; fear of the symptoms and sickness, fear of the long term effects, and, particularly for women, fear of the hair loss. It was not a good morning for me, or for my husband who was just as nervous and anxious.

My husband Jeff and I were pulling out of our driveway when I saw my friend's car coming down the street. Her plan was to drop a note and a gift in my mailbox to let me know that she was by my side and offer me words of support. She went out of her way on her morning drive to the office. Her plan was not to get caught doing it!

The gift included a small book for inspiration and a silver necklace with a pendant. The pendant included words that let me know I was stronger that I believed; courage, fearless, "U can do this."

The treatment regimen did include chemo, and radiation. Everyday during and after my treatments, I wore the necklace to remind myself that, "I got this." Simple things, simple actions can change your outlook, lift you up, and make even the hardest days easier to get through.

We'd love to read YOUR kindness story, big or small. Click HERE to share your story with us.
Share This Page
---
Leave A Comment
You must be logged in to leave a comment. click here to login
Comments