Thousands of Love Seekers Download Guided Meditation Podcasts From Psychic Source
Published Date 8/14/2015
Category: News
---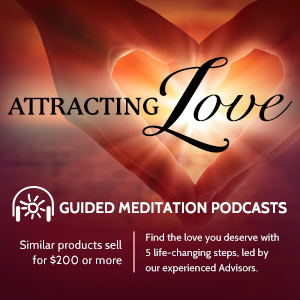 Langhorne, PA - Silicon Valley hackers do it. Wall Street moguls do it. And now customers at
Psychic Source
, the most trusted psychic service since 1989, are doing it, too: Using mindfulness meditation to find peace, happiness – and true love.
Released by Psychic Source in July, the Attracting Love series includes 5 podcasts, each lasting between 7 and 14 minutes and presented by different top Psychic Source Advisors. From Step 1, "Open and Heal Your Heart," to Step 5, "Bring Love into Your Life," the guided meditations help listeners focus their attention and energy on finding and maintaining the loving relationships they seek.
"We are so pleased with the overwhelmingly positive response to our Attracting Love podcasts," said Maryanne Fiedler, Marketing Director at Psychic Source. "Thousands have already downloaded and benefited from the guidance of our professional psychic Advisors, without having to pay what other sites or apps might charge for similar experiences." Once people listen to the complimentary podcasts, she added, they can decide whether they want to pay a specific Advisor of their choice for a one-on-one session. "It's a win-win for us and our customers," she concluded.
Judging by the popularity of other mindfulness meditation offerings, the no-cost Psychic Source podcasts stand a good chance of becoming a big hit. In its July 6th issue, The New Yorker reported that Headspace, a popular mindfulness meditation app, was increasing its number of users at a rate of 15% per month. (
http://www.newyorker.com/magazine/2015/07/06/the-higher-life
) And now, the free love-focused Psychic Source podcast program is attracting a rapidly growing audience, as well.
Customers who have used the podcasts are not keeping their opinions to themselves. "That was absolutely amazing!" wrote one in the comment section of the podcast, adding that it was "one of the most intense meditations I have ever done!"
More information on Attracting Love and links to all-5 podcasts are at:
https://www.psychicsource.com/article/love-relationships-family/finally-find-the-love-you-deserve/8323
Share This Page
---
Leave A Comment
You must be logged in to leave a comment. click here to login
Comments