New Role for Tori Spelling: Psychic Source Spokesperson
2/1/2016 10:50:00 AM
---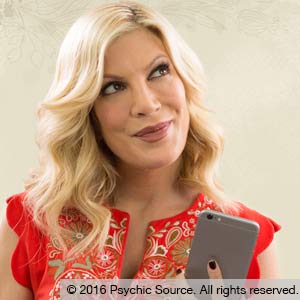 Langhorne, PA -
Psychic Source
, the most respected psychic service since 1989, is excited to announce a new partnership with actress, author and entrepreneur Tori Spelling.
Ms. Spelling is best known for her role as Donna Martin in the hit television series Beverly Hills 90210 and for her multiple groundbreaking reality shows that followed her life. In her off-screen life, Ms. Spelling, as often documented in her many books and reality shows, regularly relies on psychic advisors. Which no doubt has contributed to her very successful career.

For many years, in her writings and in interviews, Ms. Spelling has been honest and open about her positive experiences with psychics. "I explore new psychics the same way some people try out new restaurants," writes Ms. Spelling in her book, Uncharted terriTORI. "If there were a Zagat that reviewed psychics, I'd keep it on my bedside table for handy access!"

Now Ms. Spelling says she believes Psychic Source is the perfect partner for promoting the benefits of psychic guidance. "I'm so excited to have the amazing Advisors at Psychic Source available to me when I need insights into what's going on in my life," she says, "and I look forward to inspiring others to come along on this journey of self-discovery and spiritual growth with me!" Ms. Spelling plans to share her impressions and experiences on her successful lifestyle website ediTORIal and at https://www.psychicsource.com/sTORI.
Most exciting about this amazing partnership is that Ms. Spelling plans to regularly share with her millions of fans and followers her experiences receiving guidance from the gifted advisors at Psychic Source.

"Psychic Source could not have asked for a better partner and spokesperson than Tori Spelling!" said Psychic Source Marketing Director, Maryanne Fiedler. "We know we will benefit not just from Ms. Spelling's celebrity status and the community of fans who love and admire her, but also from her genuine appreciation of and experiences with gifted psychic advisors in her own life."
More information is available at PsychicSource.com. For media inquiries contact Ms. Fiedler at Maryanne@psychicsource.com or (215) 953-8568.
---