---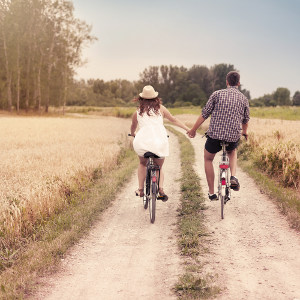 Predicting your love life might seem like a hopeless proposition, but your September love horoscope can help clarify the path before you. Whether you're single, embarking on a new relationship, or content in your current love life, September has plenty of changes in store.
Aries
September offers the perfect opportunity to revive an old flame if you feel drawn to someone from your past. Give him or her a call and see whether you're more compatible now than you were before.
Taurus
Focus on fun this September and forget forging a deep or meaningful relationship. You might have experienced significant stress at home or at work over the last few months, so cast off those burdens in favor of frivolity.
Gemini
Mercury goes into retrograde for the third time this year on September 17, and since it's your planetary ruler, spend this month reflecting on your love life and deciding what you want your future to look like. Consider booking a live psychic chat if you need help revisiting your past romantic decisions.
Cancer
Expect your significant other (or a prospective partner) to surprise you this month. Stay true to yourself and your desires. The surprises might also include an unexpected love interest if you play your cards right.
Leo
If you've experienced a frustrating year in love, take heart that lions have excellent prospects for romantic relationships starting in September 2015. Focus on finding someone who ignites your passion and makes you feel safe.
Virgo
You might feel slightly detached from your partner this month, but don't forget to let him or her know that it's all about your own introspection. If you're not currently attached, focus on yourself rather than finding love.
Libra
September is the month to surprise yourself, Libra, especially if you're suddenly seeing someone you know in a new (and romantic) light. Feel free to open up and show him or her your wild side.
Scorpio
You might feel compelled to change your relationship status in September. Listen to your heart and trust your instincts. Better things might await around the corner.
Sagittarius
Last month, Jupiter moved into Virgo and set the stage for major accomplishments through the end of the year. Take this time to focus on your career and your personal goals, but don't let your romantic life suffer in the balance.
Capricorn
The Aries lunar eclipse on the 27th promises opportunities for Capricorns to get closer to family. Married couples should focus on intimacy, while singles should extract themselves from unhealthy romantic entanglements.
Aquarius
Expect spicy encounters in September, Aquarius, especially if you've just entered a new relationship (or see one on the horizon).
Pisces
You might feel a little paranoid about your romantic partner's intentions in September, but don't let those feelings get in the way of your developing relationship. Instead, focus on the positive aspects of your bond.
Knowing what to expect from your love life in September allows you to prepare accordingly. If you're unsure about how to proceed in your relationship, book a psychic chat for guidance.
Share This Page
---
Leave A Comment
You must be logged in to leave a comment. click here to login
Comments