---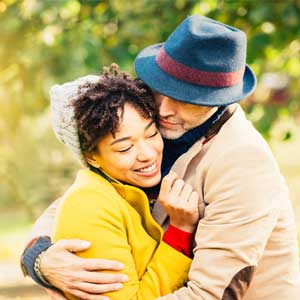 Whether you're in love, happily single, or moving on after a relationship, it's important to know what's on the horizon in your love life. The stars signal that November may be a dark month, so make sure you're prepared to overcome any negative energy. Take note of these love tips for November, and then get all the details with a complete astrology reading.
Aries
Love may lose its spark for Aries this month, but that's no reason to abandon your usual confidence. Be prepared to manage some trials and tribulations, and keep your focus on resolutions instead of dwelling on mishaps.
Taurus
No matter how many challenges November throws in the way of Taurus, those born under this sign tend to persist. Though you may encounter relationship issues this month, take your usual straightforward approach and confront the problem head on.
Gemini
Venus dominates Gemini this month, which can lead to surprisingly destructive romances. Gravitate toward family and friends instead, and don't rush any decisions relating to your love life in November.
Cancer
Mars will influence those born under the sign of Cancer this month, making November the right time to be firm when it comes to romantic needs. Be decisive and uncompromising, and you just might find that you get exactly what you desire.
Leo
Those born under the sign of Leo may face serious opposition from a romantic partner this month. Don't let these difficulties go to your fiery head, though. Stay cool, keep calm, and resolve problems with your significant other rationally.
Virgo
All signs point to this being a challenging month for Virgo, filled with tense situations and difficult conversations. Choose your words carefully, persevere through the tough parts, and you'll find the power to change your course.
Libra
As one of the most balanced signs of the zodiac, Libras should endeavor to remain neutral this month. You might feel spoiled for choice in the romantic department, but wait to see if any of the options pan out before jumping into anything.
Scorpio
The late fall will present Scorpios with both highs and lows. Though you may find yourself in an unpleasant romantic situation this month, the resolution will have you coming out on top.
Sagittarius
Those born under the sign of Sagittarius can expect some romantic luck in November. Whether you're seeking a new relationship or settling into your current one, be ready for some pleasant surprises during the first half of the month.
Capricorn
The moon will exert a strong pull on Capricorns throughout the month and may lead to negative interactions with loved ones. This is the ideal time to postpone action and focus on introspection instead.
Aquarius
Clashes and disagreements are in the air for Aquarius during the month of November. To avoid any big blowups that you'll almost certainly regret later, strike a balance between being passive and being aggressive with your significant other. You'll know when the time is right for each.
Pisces
This month is the perfect time for Pisces to take a break and let things run their course. Enjoy a November filled with romantic harmony, and do your best to stop any potential conflicts before they start.
Not sure where to direct your amorous energy in November? Talk to a love psychic for advice on your romantic situation this month.
Share This Page
---
Leave A Comment
You must be logged in to leave a comment. click here to login
Comments