---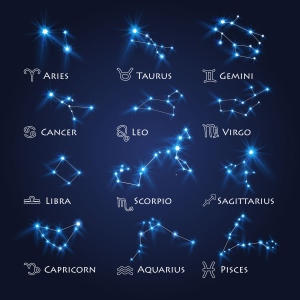 Are you curious about what March has in store for your love life? Turning to the stars can help you prepare for opportunities that might come your way, whether you're looking for love or nurturing a long-term relationship.
Aries
Cosmopolitan predicts a red-hot romance day on March 23, so consider using the first half of March to get ready for the possibilities. Devote some time to yourself or finally set up that online dating profile. When the 23rd arrives, you'll be ready.
Taurus
According to the Astrology Club, March 2016 might present a few challenges for the Taurus who is already in a committed union. Positioning yourself as a loving and supportive partner might help your beloved work through the problems causing a rift in your relationship.
Gemini
If you've been devoting too much energy to your love life, Gemini, you might want to back off in March and shift your sights to your career goals. Golden Horoscope suggests that your time is best spent on moving up the corporate ladder instead of fanning the flames of romance.
Cancer
Seek balance in your love life this month, especially if you feel as though you're burning the candle at both ends, and make time for a psychic online reading to help clarify your path. If you don't make time for yourself, you might not have enough energy to devote to your personal life.
Leo
Focus on communication this month, Leo, so you build healthy, lasting relationships. Whether you're embarking on a first date or a 10-year anniversary, let go of some of those secrets you've been hiding.
Virgo
With your planets still adrift in the west, you're on track for creating new romantic connections in March. Practice the social skills you've developed over the last few months. Don't look for long-term love now; instead, enjoy making connections.
Libra
The seventh house, which is associated with love and relationships, is strong in March for Libra. Take time to decide what you're looking for — a short-term fling or in-depth relationship.
Scorpio
Your attraction is powerful this month, Scorpio, so don't squander it. You might attract potential partners, but be wary of people who won't fulfill your needs.
Sagittarius
This is the magical hour for Sagittarius, so make the most of it. Your emotions might run hot, but don't let them overrun your good sense. Instead, focus on making the most of every opportunity that comes your way.
Capricorn
Mars will come into alignment this month, so expect to feel strong connections to the past. You might feel inspired to rekindle previous relationships, but don't act on those impulses unless your head is aligned with your heart.
Aquarius
Expect your sense of purpose to strengthen in March, Aquarius, so consider consulting an online psychic to discuss your romantic future. Bring that purpose to your relationships for added intensity.
Pisces
Seek intimacy this month, Pisces, to take advantage of the solar eclipse. Don't let opportunities slip through your fingers just because you're afraid of getting close.
With summer just around the corner, now is the perfect time to re-examine your love life and its prospects.
Share This Page
---
Leave A Comment
You must be logged in to leave a comment. click here to login
Comments