---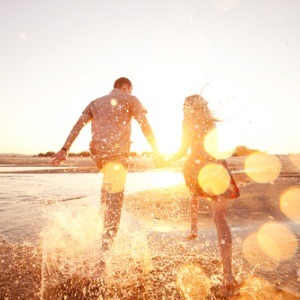 With its hot weather and ample sunshine, July has the potential to sizzle or ignite some serious sparks. Discover what this summer month has in store for you, and talk with a knowledgeable astrologer for in-depth love advice for every sign of the zodiac.
Aries
Those born under Aries will be seeking out harmony this month, especially when it comes to love and relationships. If you're flying solo in July, some potential romantic interests might pleasantly surprise you early on in this hot month.
Taurus
It might seem like July was made for Taurus, since everything is coming up roses. Give them the attention they deserve, and your romantic relationships will progress just as you want. If you're looking to start something new, you'll have no trouble finding a willing partner.
Gemini
July is the ideal time for Geminis to focus on romance and home life. If you're single, you'll easily attract your fair share of love interests. Partnered Geminis will feel inspired to take a committed relationship to the next level, especially during the first half of the month.
Cancer
July will start out strong for Cancers, and the presence of Venus will lead to plenty of confidence and romantic satisfaction. You could hit a few relationship snags toward the end of the month, but you'll finish July on a strong note by not dwelling on the past.
Leo
Sparks will fly for Leos in July. Though most probably won't have staying power, romantic interests will be plentiful. If you have a bad feeling about the future of either an established relationship or a budding new one, don't waste your time trying to make it work.
Virgo
For those born under Virgo, July holds the potential for unpleasant conflicts. If romantic discord tempts you to disrupt a partnership, hold off on any rash decisions. Communicate and compromise, and postpone important relationship steps until later in the summer.
Libra
Libras will turn into social butterflies in July, all in the name of love. You'll be the subject of some welcome attention early in the month, and you'll encourage the romance throughout the month. You won't be inspired to commit, but that won't stop you from having fun.
Scorpio
Scorpios have the opportunity to discover new territory in July, and this might mean that comfortable friendships can turn into something more. If an existing relationship feels like it's stuck in a rut, dig deeper to move things forward.
Sagittarius
Those born under Sagittarius are revved up and ready to go this month, but your ego might get in the way of satisfying romantic relationships. This is likely to be an emotional month, but how much you express your feelings is entirely in your hands.
Capricorn
Capricorns are in the midst of a period of self-discovery this summer, and you'll have some important revelations in July. Romantic relationships might require some recalibration, but the more committed you are, the stronger they'll become.
Aquarius
External forces could add confusion and distrust to your romantic mix this month. As long as you focus on loyalty and commitment, however, you'll get through the tough times and end up stronger.
Pisces
Love won't come easy for Pisces this month, and you may need to reevaluate your relationships. Take the time you need to gain perspective, and focus on achieving balance and regaining passion.
Looking for the right moment to take charge of your love life this month? Chat with a psychic online and discover how you can realize your desires and make things sizzle in July.
Share This Page
---
Leave A Comment
You must be logged in to leave a comment. click here to login
Comments