---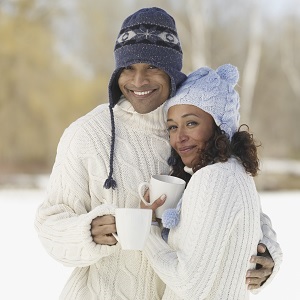 With Valentine's Day just over a month away, it's important to know what your love life has in store for you. Should you expect a solo month or one filled with sweethearts? Read on for January love tips for every horoscope.
Aries
January shows all signs of being a positive month for Aries, who revels in the trials and delights of a new year. This is the perfect time to test the waters with a new relationship, or find new levels of bliss in your current partnership.
Taurus
The first month of the year is bound to pose tough times for many, but those born under the sign of Taurus will have the persistence it takes to rise above these challenges. Stay alert for unwelcome relationship developments, and listen to your own needs.
Gemini
Pluto and Jupiter will pull Gemini in opposite directions this month, spurring disagreements with your significant other. Take the time to deal with problems before they spiral out of control, and you'll end the month in a better place than where you started.
Cancer
Those born under the sign of Cancer will feel the influence of Mars this month, which means January is bound to be filled with welcome surprises. Invite the positive changes in your romantic relationship, but don't forget to give your partner the necessary space to make this happen.
Leo
The sun will shine on fiery Leos, who should enjoy a satisfying and successful January. Relationships are likely to get more intense, especially if you give them a new environment in which to grow. Consider having a love tarot reading to learn more about the direction in which to take things.
Virgo
Mercury will rule Virgos this month, which may cause some emotional challenges. Instead of letting negativity get to you, focus on the positive and keep your eyes on the relationship goals you've set out to achieve, especially at the end of the month.
Libra
Libras may be exhausted from a busy holiday season, but the warm sun will help those born under this zodiac sign to feel rejuvenated. Soak in the harmony for now, and get ready for a love-filled month ahead.
Scorpio
Scorpios will feel the influence of Mars this month, a powerful sensation that's bound to urge ambition and drive. You might not encounter anything surprising on the relationship front, but you'll be inspired to end the month on a positive, loving note.
Sagittarius
Jupiter will be the driving force for Sagittarians this month, but there's no need to let this celestial body's aggressive tendencies take over. Keep calm, avoid conflicts, and let possibilities for a romantic relationship flourish.
Capricorn
After a busy December, it's time for Capricorns to rest up for the months ahead. Don't count on any earth-shattering romantic developments this month, but do start laying plans for future love affairs.
Aquarius
Those born under the sign of Aquarius will feel the effects of a struggle between the sun and Mercury, which may manifest in confrontations. Keep a level head, and strive to communicate with your significant other as clearly as possible to avoid a larger blowup.
Pisces
It's important for Pisces to maintain a positive outlook in January, especially with negative influences swirling around. Stay focused on the one you love, and watch as your relationship grows deeper throughout the month.
Want to know how other aspects of your life might affect your love prospects? An astrology reading offers a complete look at all celestial influences and how they can impact your life in January and every month.
Share This Page
---
Leave A Comment
You must be logged in to leave a comment. click here to login
Comments