---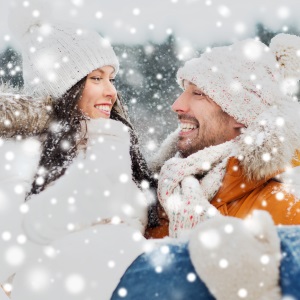 December is the perfect time to get cozy with the one you love or heat things up with a new romantic interest. Make this month as festive as possible with love tips for every horoscope.
Aries
As an Aries, you love the excitement of the holidays, and this one won't disappoint. If you're unattached, embrace a seasonal fling or two, and if you're partnered, look forward to a sizzling, love-filled month.
Taurus
This December, Taurus is inclined more toward creativity than ever, and this easily translates to your love life. Spice up a relationship with a hot-and-heavy surprise getaway, or impress a new partner with your inventiveness and thoughtfulness.
Gemini
The holidays have a tendency to make Geminis forge more intense connections, and this December is no different. Don't hesitate to take the passion up a notch, especially if you're feeling secure and stable with your partner.
Cancer
December will feel like a breath of fresh air to those born under the sign of Cancer, especially if you've been seeking more spontaneity and excitement. Embrace the season, enjoy the festivities, and take stock of any new developments once the dust has settled.
Leo
In the midst of this busy month, Leos will find themselves in need of a romantic escape. Give yourself the time you need to unwind, enjoy yourself, and rekindle the flame with your partner or start something exciting with a ravishing new love interest.
Virgo
December is the ideal time to turn a spark into a new flame, and as a Virgo, you have plenty of charm to go around. Don't hesitate to express how you feel, whether you're in a committed partnership or broadening your horizons.
Libra
This month, Libras are tempted to tip the scales toward a new romance. Get a psychic love reading to make sure you're headed in the right direction and to iron out any kinks in communication.
Scorpio
As a Scorpio, you're seeking a relationship with ample space for your spontaneity. You're likely to find just what you're looking for this December, but if the romantic landscape doesn't look promising, enjoy much-needed time with friends.
Sagittarius
Close connections and nurturing relationships couldn't be more important for Sagittarius this month. Focus on building trust, give yourself to those who deserve you and feel the love flow around you.
Capricorn
This December, creative juices are flowing for Capricorns, especially when it comes to romance. Let your inhibitions go and show your partner how you really feel, and you're bound to have a red-hot holiday season.
Aquarius
Aquarians feel a strong desire for intense conversations and passionate connections this month, no matter where you are in the relationship. Take the opportunity to open up as much as your partner does, and you light just the fire you want.
Pisces
As a Pisces, you'll welcome a strong sense of stability this month. If you feel the need to spice things up during the second half of December, feel confident that it's the perfect time to deal with long-standing issues or even pursue a little experimentation.
To learn even more about what December has in store for you, get an astrology reading. You'll gain all the insight you need to make the most of this red-hot month.
Share This Page
---
Leave A Comment
You must be logged in to leave a comment. click here to login
Comments