---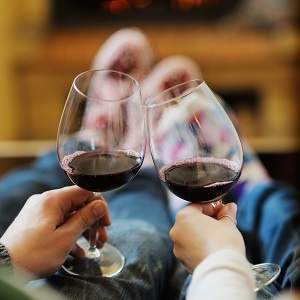 December is the perfect month to curl up with a loved one by the fire. What's in the stars for you this holiday season? Only a knowledgeable astrologer can give you the full story, but these December love tips offer a hint of what's to come.
Aries
Self-assurance is as important as ever for Aries this month, especially when it comes to love. Be prepared for some surprises, and know that they'll all be in your favor this December.
Taurus
Taurus tends to be unerringly focused, especially when making a difficult decision. If you've been pondering multiple different relationships, now is the right time to choose. Take your time, and feel confident that you've chosen the right direction in your love life.
Gemini
The stars are aligned for Geminis this month, and there won't be anything to stop those born under this sign from getting what they want. Remember to be honest and open with any potential significant other, and you'll accomplish exactly what you've set out to do.
Cancer
Nurture-loving Cancers will want nothing more than to snuggle up with a significant other, and that's just what this month calls for. Enjoy the peace that comes with the holiday season, and bask in the love from those around you.
Leo
The sun will favor Leos this month, a welcome element during a cold month. Bask in its rays and accept what comes your way, regardless of any romantic dilemmas that will almost certainly head your way.
Virgo
Lovestruck Venus is on the side of Virgos this month, so there's a good chance your romantic expectations will be fulfilled in December. Don't be too forceful, especially with loved ones, or you may not like the result.
Libra
While the early part of the month will likely demand some soul-searching for Libras, things will turn around in your favor by the middle of the month. The stars are in control this month, so let them guide you toward balance.
Scorpio
Those born under the sign of Scorpio tend to embrace ambiguity, but this isn't the time for that. Be straightforward in your romantic relationships, keep your desires in check, and don't let the pull of Venus overwhelm you this December.
Sagittarius
December is filled with promise for Sagittarians, and those who start the month solo are likely to end the month partnered. Don't sit back and let love find you, though. Open yourself to a new relationship, and don't let the opportunity slip by.
Capricorn
Positivity will reign for Capricorns in December, and if you're lucky, it might seem like everything in your love life is going exactly the way you want. Work on establishing trust with your significant other, and consider taking some big risks.
Aquarius
December may appear challenging for Aquarius, but a little patience will go a long way. Appreciate the beauty in the details, and you'll enjoy a satisfying month. If you need additional guidance, a psychic love reading can help point the way.
Pisces
After a chilly fall, December brings warmth to those born under the sign of Pisces. Seek out the romantic relationships you desire this month, and you're bound to find that your prospects are very receptive.
Wondering how to act on these love tips? An online psychic can help you interpret cues and circumstances so you can have your best December yet.
Share This Page
---
Leave A Comment
You must be logged in to leave a comment. click here to login
Comments