---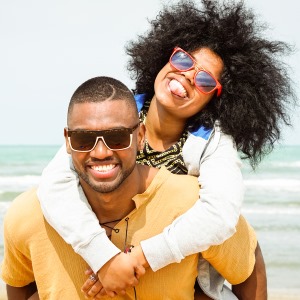 Whether you're in the midst of a red-hot summer or you're fanning the flames of a new love interest, August has plenty of romantic potential. Discover what's in store for your love life with these August love tips for every sign of the zodiac.
Aries
Those born under the sign of Aries excel at making the most of any moment, and August offers plenty of romantic opportunities. Don't hesitate to put that old flame behind you, pursue new connections, and make the first move when the time is right.
Taurus
Summer love has Taurus feeling wonderfully lighthearted, and that's a good thing. In August, give yourself permission to stop being so serious and embrace that romantic spark with the passion you truly feel.
Gemini
With so many vibrant connections in your orbit, those born under the sign of Gemini rarely lack romantic prospects. As the stars align in late August, it's the perfect time to take one special connection to the next level to find out whether your love interest can truly keep pace with you.
Cancer
If this summer has been a nonstop hustle, August is the perfect time for Cancers to slow down and smell the roses. Tune into your romantic desires and let the sparks fly.
Leo
August may start off a little slow for Leos, but as any love psychic can confirm, your fiery personality rarely waits long to spark something new. Focus on getting your romantic life in order during early August, and then let yourself pursue your passion.
Virgo
For those born under the sign of Virgo, summer romance truly sizzles in August. This month starts off with a bang, and if you play your cards right, it will stay red-hot throughout. Don't be afraid to test the limits of your passion, and you might be pleasantly surprised.
Libra
It's all about balance for those born under the sign of Libra. All the love you put out there is bound to make its way back to you, so why not take a chance and test the waters with your new romantic interest?
Scorpio
Scorpios tend to seek out roaring fires of passion, but sometimes a spark can be just as exciting. As summer slowly fades away into the sunset, this month is the perfect time to give yourself the chance to turn a glimmer into a roaring fire.
Sagittarius
Whether you're in a long-term relationship or you're totally untethered, August brings plenty of romantic opportunities to light for Sagittarians. Stay open to connections of all kinds this month and get ready to tap into the passion you've been seeking.
Capricorn
Nothing can hold Capricorns back from designing and executing the perfect plan for romance, even when your love life is feeling a little off-kilter. Allow your imagination to wander in August, and let your joyful, creative energy spark some seriously romantic interest.
Aquarius
If you've been thinking about starting a new romantic chapter, August is the ideal time for Aquarius to do just that. Take the solar eclipse as a sign that it's time for your relationships to take a more spiritual turn and consider pursuing deeper connections.
Pisces
Every day offers the chance for a new beginning, and Pisces have 31 opportunities to seek out that spark in August. Whether you're committed to a long-term relationship or you're looking to partner up, this hot summer month holds tons of potential.
Seeking additional guidance as you make the most of your sizzling summer? An online psychic reading can offer just the insight you need to turn that spark into a full-blown flame.
Share This Page
---
Leave A Comment
You must be logged in to leave a comment. click here to login
Comments