---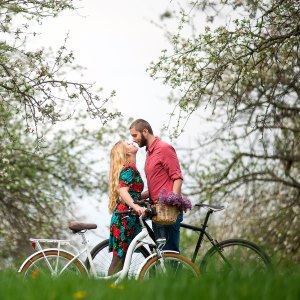 Spring brings warm weather, fresh blooms, and plenty of new awakenings. Whether you're warming up to a new relationship or viewing a long-term partnership with renewed interest, things are heating up. Get an astrology reading and find out what April has in store for your love life.
Aries
Those born under the sign of Aries aren't known for holding back. It's no surprise that you're prepared to charge ahead and pursue that new love interest as soon as April begins. After all, no one can stand in the way of you and someone you want to get to know.
Taurus
If you're feeling down about the state of your love life in April, remember to keep a positive outlook. Offer a flash of your compelling personality, and you're sure to get all the invigorating communication and heart-pumping activity you need to light that romantic spark again.
Gemini
If you've been dreaming of a perfect partnership, April is the ideal time to turn that fantasy into reality. Remember that relationships require communication, but a few challenging conversations with your partner could pave the way for the love you truly want.
Cancer
This spring month brings its fair share of romantic highs and lows to those born under the sign of Cancer, but it's nothing you can't handle. Look forward to some intense feelings at the beginning of the month, but get ready to hunker down and work through some issues later on.
Leo
Leos aren't known for moving slowly, but this month is a smart time to take relationships at a more leisurely pace. Even if that new love interest seems incredibly promising, consider checking your emotions, especially if you want this to last.
Virgo
April is bound to deliver a cycle of ups and downs for Virgos, and you may not be able to make sense of it all. Try to remain open to new partnerships this month, and don't write anyone off just yet.
Libra
Your partner will make you feel like the center of his world as the spring season dawns. Don't take this feeling for granted, though. Turn up the romance and let him know how much you appreciate him in return.
Scorpio
Spring has truly sprung for Scorpios, and this month, you're sure to discover the new romantic beginnings you've been seeking. Indulge your senses, and enjoy the starry-eyed feeling that new love tends to bring.
Sagittarius
This month has plenty in store for Sagittarius, especially if you're open to an intense, all-consuming love. Keep your heart and your mind open at the beginning of the month, and you may find yourself caught up in a passionate whirlwind by mid-April.
Capricorn
Those born under the sign of Capricorn are known for being go-getters, and April is the ideal time to make love happen. Your positive outlook and joyous demeanor will effortlessly attract those seeking spontaneous romance.
Aquarius
April has the potential to bring long-ignored emotions to the surface for Aquarius. Be prepared to confront some surprising feelings early in the month, and don't be afraid to let them lead you toward an unexpected relationship.
Pisces
Those born under the sign of Pisces tend to know exactly what they want in love. Don't be surprised when exactly that enters your life at the beginning of the month. It's okay to let yourself fall head over heels, but remember to check in with reality from time to time.
No matter where your love life stands, April has plenty of potential. Talk with a love psychic and learn how you can make the most of this springtime month.
Share This Page
---
Leave A Comment
You must be logged in to leave a comment. click here to login
Comments