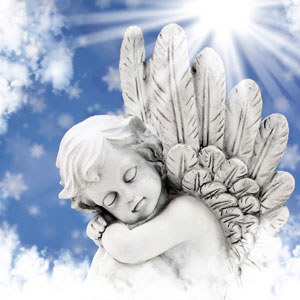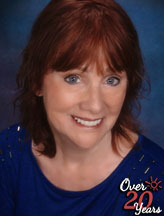 Get a Reading with Stella x7343
My angel appeared to me the first time when I was a little over 3 years old. I had taken off to climb the mountain behind my home in the Catskill Mountains because my father was yelling and screaming at my mom. This particular occasion, upon climbing the mountain to the reservoir (an old timey bathtub) that held our drinking water, my angel appeared to me as I gazed down into the water. Only her head and shoulders with the tips of her wings appeared on the mirror of the water.

Whenever, I would turn around to look at Her, I couldn't see her!! I could only "see" her when I gazed down into the water. When I would turn around either to try to view her or to look again into the water, her wing would brush against my cheek and I would feel the touch of her hand in mine. She has been connected to me all the years I have lived since turning three.

Four years ago, I went home for my brother's funeral and on the day before I was to return to Texas, it stopped raining. I immediately went to my "homestead" and was granted permission to walk up the mountain to the reservoir. This time I felt my angel take my hand as I neared the water. When I reached the water, I was crying and cried even harder when I saw her face!!!!!!

I now live in Texas and have since 1971. I only go home about every 10 - 15 years. Every time, I spend a great deal of time at that "reservoir" as that is where my Angel shows herself to me. Everywhere else I hear her voice and feel her wing brush my cheek and her hand hold mine. I have broken major bones at one time or another that started in 1984 and the most recent accident occurred in April 2017! My angel always comes to me with messages of comfort and tells me exactly what the circumstance is and what is coming forward. She stays with me until I leave the doctor's office and then when I enter my front door and lie down, she becomes "silent".

Another, Angel connection I would like to share on a happy note is: My handicapped little girl who crossed over 11 years ago this July who immediately became an Angel is with me every second I am helping folks who turn to Psychic Source. On occasion during a "reading," suddenly all goes dark in my mind and in front of my eyes. This action takes place when the timing is not perfect for the answer the guest is seeking to be divulged for their highest good. Immediately I feel the little hand of my "angel" touch my shoulder, and just as suddenly, all the darkness fades and I am blessed with more messages to be shared with my customer.

I trust and sincerely hope the sharing of my experiences with MY God given Angel and My "little" angel resonates to a spot in your heart that brings the action needed for you to reach out to your Angel to receive the Messages of Guidance your angel wants to place in your mind and on your heart.

Stella x7343