---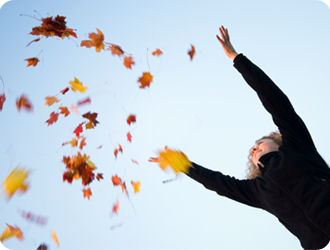 One of our community members, Kumal, shared her beautiful story of change. Let us know what you think!

Change is necessary in life, however, often times we fail to make even the smallest of changes just because we are so used to familiarity. I too was afraid to make the necessary changes in my life for many years. I tried several times only to find myself give up without putting in much effort. The thought of change, whether positive or negative scares us all, there's a lot of strength and courage required. Over the past few months, I have undergone many changes, all of them positive. I wish though that I had made these changes earlier, and then maybe I wouldn't have had to face many of the turbulences that I did.

It all begins with first acknowledging where the changes need to be made in your life, after that you must have the desire to make that change for yourself and last, act upon it. There were many areas in my life that I needed to change; the way I handled money, my relationships, my priorities and last, my goals. I knew that I wasn't handling any of my problems well throughout the years; I would just ignore them and make up my mind to deal with them later. Unfortunately though, problems don't ever solve on their own, so they'd always pop up and give me a hard time when I'd once again acknowledge them.

I was never responsible with the way I handled my money, spent it on food, clothing, gifts and all the non-sense stuff, but never saved even a penny. Lived paycheck to paycheck basically. My relationships never did well, because I was too selfless, to the point that I'd forget who should matter the most and received love first and foremost; myself. Emotionally I was very weak and dependent. My Priorities had no room in my life, my bills were never paid on time, and I didn't care what I needed to do for myself, for my future. Instead I would spend all my time going out with friends, buying expensive materialistic things, eating out and buying my partner gift after gift with no plans of making any goals for myself. I was living a care-free irresponsible life.

Recently, when my relationship with my on and off boyfriend of three years fell apart like never before, and he walked out that door once again without any explanation, I broke down as always but hit an all-time low. I cried for a couple of months. If I had gone to a doctor, I probably would have been diagnosed with clinical depression. However, this time, after I had cried out all the tears that I could have, I prayed to God for forgiveness and to be blessed with the strength I needed to make changes in my life, for me. I felt disgusted, that I could let myself be treated so poorly for that long and i kept dealing with it. I realized where all my problems had arisen from. I was too dependent on my ex-boyfriend for my happiness. I had forgotten what it was like to be happy on my own, how it feels to put myself first. My relationship with him had been so draining of energy, that I didn't focus on anything but him, all my time, my money, my dreams, my goals had to do with him; how much I wanted to make him happy, how much I wanted things to work out for us, if he needed anything (money, you name it) i wanted to be the one to provide it for him because I just wanted to prove to him how much i loved him.

But despite all my efforts, He still left me. That's when I realized, that I myself, was my own enemy. I didn't love myself enough to not let anyone treat me unfairly. This wasn't anyone else's fault but my own. It took a lot to realize that I was the one who was creating this problem all along mentally; I wasn't strong enough, not independent enough and of course did not love myself enough. After I prayed to God that night, I woke up the next morning with an energetic feeling to make a difference in my life. I slowly started doing things for me, started to catch up on my bills, started thinking about my future and the things I could do to better myself emotionally. I had my family and most of all, my best friend, who gave me so much to think about. She took me out regularly; we just enjoyed hanging out together, which made me realize that I don't need a man to keep me happy, I can be happy on my own. I applied to a Psychiatric Nursing program and was accepted. I paid off everything I needed to pay, outstanding bills and made sure that financially I make smarter decisions from then on. I am the only person I truly have and of course God.

God has been my biggest strength, savior and my best friend. He rescued me from disaster and blessed me with so much strength and wisdom. I am so happy for the person that I am today. Without his help, I wouldn't have been able to make the changes I made in my life; my prayers gave peace to my heart and soul. It's amazing the amount of strength you can attain when you switch your mind frame and have that desire to make your life better for you & in that moment you turn to God, he's at your service. Today was my first day of school, I feel so blessed to be starting off all over again, and it's like starting a new chapter in my life. In this chapter, I began with a promise to always love myself to the fullest, to always put my goals ahead of everything, to always be independent, be strong & courageous and always put my priorities first. If you have a change that you know you need to make, do it now, don't wait till later, because, a happier future awaits you!
Share This Page
---
Leave A Comment
You must be logged in to leave a comment. click here to login
Comments