---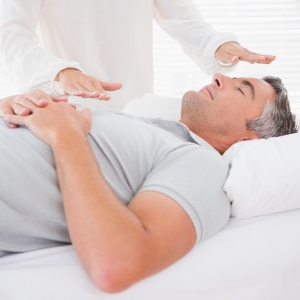 Have you heard about reiki? It's fast becoming a popular system of energy work here in the West. In addition to offering the power of healing, it may boost your spiritual and psychic development. Discover how you can use reiki to expand your cognitive abilities and how, with regular practice, to open yourself up to better psychic attunement.
What Is Reiki?
Reiki is a Japanese alternative healing technique for reducing stress and promoting relaxation. The principle behind the practice is that you can channel energy — or life force — into another person through touch. This therapy activates the body's natural healing processes and may help restore physical and emotional well-being.
How Can Reiki Help Expand Psychic Abilities?
The ancient practice of reiki may help open and expand both the practitioner and the patient's natural psychic abilities. It's believed that reiki works to help clear away issues that clog the body's spiritual pathways, leading to mental and emotional turmoil and physical disease, while preventing you from expanding your cognitive aptitudes. When your chakras are out of balance from these blockages, psychic energy can't be absorbed and utilized properly.
What Is Psychic Attunement?
The word "attunement" means to become "in tune." In reiki, this process manipulates life force energy that flows all around you and brings it into balance. Attunement may also bring about healing energies and is used to deliver them into the body. It's believed that receiving an attunement treatment from a reiki master is necessary to reap all the benefits of its healing powers.
How Does Reiki Open Us Up to Better Psychic Attunement?
Reiki is relaxing as the patient harmonizes with the natural ebb and flow of energy. Once you're in this tranquil state, your open sensitivity allows you to receive additional information about yourself and other people too.
When giving a reiki treatment, you'll receive energy as well, as you do from an online clairvoyant — improving your intuition. As your understanding of the methodology increases, you may start to see auras when you didn't have that ability before therapy.
How to Get Initiated to Reiki?
The first step in the process is to start with an online psychic reading. Once you've cleared away a bit of baggage, find a reiki teacher near you, then schedule your initiation. Learning reiki is an excellent choice for those practitioners who want to expand their psychic abilities and work with healing energies. Once you have absorbed a healing reiki technique, the real work begins. It's essential to devote time to regular practice so you can continue to develop your understanding and psychic sensitivity.
Reiki therapy is gaining popularity and rapidly becoming an accepted source of alternative medicine. It's a terrific method to open up the recipient to their intrinsic psychic abilities. Schedule your initiation today and see how reiki can benefit your well-being.



For over 30 years, Psychic Source has been providing you with the latest information and finest resources from experts in the field.
Share This Page
---
Leave A Comment
You must be logged in to leave a comment. click here to login
Comments