Updated: August 21, 2023
by Psychic Source
Written in the Stars
Do you eagerly check your horoscope every morning or religiously follow your zodiac sign predictions? Astrology has captivated the minds and hearts of many Americans, guiding their decisions and offering a glimpse into the mysteries of the universe.
Motivated by a desire to understand the extent of this celestial craze, we conducted an extensive survey of 505 Americans from diverse backgrounds and demographics. We asked participants about their views on astrology and whether they felt connected to their zodiac signs.
In addition, we delved into the vast realm of online searches, examining zodiac and horoscope queries across the U.S. over the past 12 months. Let's embark on this cosmic adventure together and explore the captivating world of astrology as it unfolds across the United States.
Following your Horoscope
---

57% of Americans believe horoscopes are credible to some extent, and over 1 in 10 check their horoscopes multiple times a week.
Percentage of Americans Who Have Used Their Horoscope to

Make Life Decisions
Percentage of Americans Who Said Zodiac Signs

Play a Role in Compatability

33%
Romantic Partners

25%
Friends

14%
Family members
11%
Colleagues
Americans Said These Signs Make the
Best Friends
---
Americans Said These Signs Make the
Best Partners
---

Nearly one-third of Americans said it's important to include your zodiac sign on a dating profile, and 1 in 7 said there's a specific zodiac sign they refuse to date.
Zodiac Signs Americans Most

Refuse to Date
Key Takeaways
Scorpios (72%) and Geminis (68%) are the most likely to believe horoscopes are credible, while Aquariuses (47%) and Leos (51%) are the least likely to believe.
Gen Z is the most likely to consider horoscopes to be completely credible (18%), compared to millennials (14%), Gen X (11%), and baby boomers (3%).
Nearly 1 in 4 Americans have used their horoscope to make a life decision.
42% of Americans believe zodiac signs play a role in compatibility.
60% of Americans say their zodiac sign accurately represents them.

Scorpios (72%) and Pisces (71%) were most likely to feel accurately represented.

13% of Americans say they want to date someone who believes in astrology, while 24% would prefer not to date someone who believes in astrology.
Of those who said they would not date a particular zodiac sign, the top reason was due to a bad past with that zodiac sign (54%), followed by temperament clashes (46%).
Most Searched

Zodiac Horoscopes per State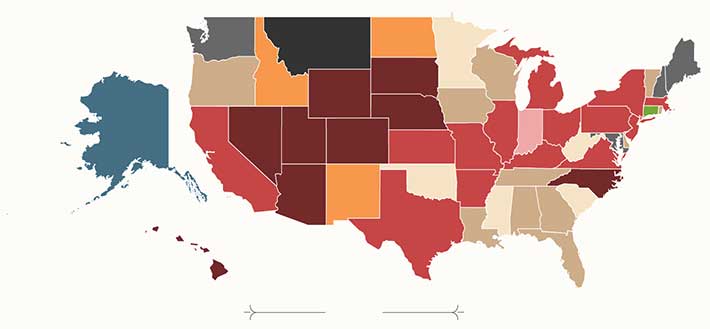 The Most

Astrologically Obsessed States
By Total Searches for Horoscopes per 100k Residents
Top 15 Most Astrologically Obsessed Cities*
Rank
City
Most Searched Term
*Among the top 100 most populated U.S. cities
Key Takeaways
None of the states has more searches for Aquarius and Sagittarius horoscopes than any other sign.
New York State conducts the most astrologically related searches, while Idaho conducts the least.
Montana is the only state with more searches for Libra horoscopes than any other sign; Indiana is the only such state for Aries horoscopes, Connecticut is the only state for Capricorn, and Alaska is the only state for Cancer.
None of the top 15 cities has more searches for Libra, Pisces, Capricorn, Aquarius, and Sagittarius horoscopes than any other sign.
Residents in Orlando and Miami searched more for Aries horoscopes than any other sign.
Methodology
Psychic Source surveyed 505 Americans about their views on astrology. The breakdown of Zodiac signs among respondents was as follows:
Libra (10%)
Leo (10%)
Pisces (10%)
Cancer (9%)
Taurus (9%)
Virgo (8%)
Gemini (7%)
Sagittarius (7%)
Capricorn (7%)
Aries (7%)
Aquarius (7%)
Scorpio (6%)
Didn't know (3%)
Psychic Source also used Google Trends search volume data to analyze zodiac and horoscope searches across the U.S. over the past 12 months to determine the most astrologically obsessed states and cities and which signs they are most searching for.
About Psychic Source
PsychicSource.com has been providing reliable and compassionate psychic services for over 30 years. We pride ourselves on combining one-of-a-kind experiences with exceptional customer service and satisfaction.
Fair Use Statement
If you're intrigued by the fascination with astrology in the U.S. and would like to share our findings with your readers, you're welcome to do so for noncommercial purposes. We kindly request that you provide a link back to this page, allowing your audience to explore the full scope of our research and methodology.