---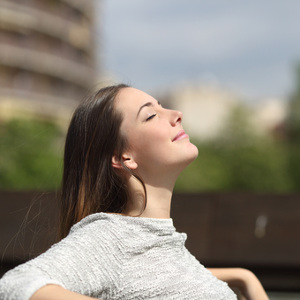 Wish you had more time to meditate? News flash! You don't need to sit in a darkened room to calm down a little. Using guided meditation apps while you're out and about can help you enjoy zen on the run. Here are six apps to try.
The Mindfulness App
The Mindfulness App allows you to choose between several different types of meditation. The app comes with four guided meditations and four silent meditations with bells, each one lasting between three and 30 minutes. A guided body scan is also included. When you're ready to try something different, you can buy more meditations from teachers such as Jack Kornfield and Pema Chodron.
Headspace
If you're new to meditation, Headspace allows you to get started for free using the ten-day "Take 10" taster program. Once you're hooked, a small monthly fee will allow you to enjoy a new meditation from founder
Breathe and Relax
Most people can feel better simply by focusing on their breathing. The Breathe and Relax app offers four breathing break audio recordings that you can call upon when you want to enjoy a moment of zen. You can also take advantage of a voice-guided breathing exercise that will teach you to breathe more effectively even when you're not using the app. You can set Tibetan bell or voice reminders to remind you to breathe through the day.
Intuition and Inner Psychic Power
Haven't got time to phone a psychic? The Intuition and Inner Psychic Power - Hypnosis and Meditation app from certified hypnotherapist Rachael Meddows works with your subconscious mind to help you read auras, strengthen your third eye, and awaken your inner psychic. You can choose short or long sessions depending on how much time you have available and adjust the vocal and background audio according to your preferences.
Buddhify
Costing around the same as a cup of coffee, the Buddhify app includes more than 80 tailored meditations for when you're walking in the city or the park, eating, traveling, exercising, or drifting off to sleep. There are no extra charges; once you own the app, you have all these useful meditations at your fingertips, when and wherever you might need them. Stats, graphs, and multiple voices are all part of the package.
Walking Meditation
Specifically geared toward meditation on the move, the Walking Meditation app includes three guided walking meditations. It's a perfect choice if you struggle with sitting meditation. Each meditation has a different focus: being fully present, enlivening the body, and enhancing the senses. Choose the one that appeals to you or try them all. The included diary page allows you to keep track of your progress, insights, and experiences.
Why not try one of the meditation apps the next time you're on the move? Remember to stay safe by not using these recordings while driving.
Share This Page
---
Leave A Comment
You must be logged in to leave a comment. click here to login
Comments