Searching for the Right Psychic
Published Date 8/1/2012
Under: Psychic Topics
---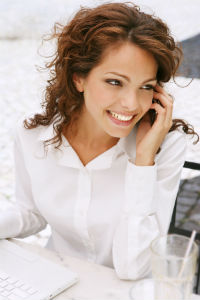 Psychic Source makes it easy to find the right psychic for you!
I've been looking through the profiles of many different psychics lately, looking for one myself. I have extremely vivid dreams and need help interpreting them on occasion, so it helps to talk to someone different that isn't emotionally attached. There are so many of us out there, all with different gifts. So it helps to pick the one right for you.

How do we do that?

First things first, write down the questions you have. This will give you a basis of what kind of answers you are looking for. Plus, if you only have a short amount of time, your questions will be there for the next reading. If you are asking about a deceased loved one, look for a Medium. They are able to contact these spirits and help make the passing a little easier for both parties. Some Psychics hear answers (clairaudience), some Psychics see the answers (clairvoyance), and some Psychics feel the answers (clairsentient). If you want to know about feelings ask an Empath who can pick up on others emotions. If you have many different questions on love, or finance, it helps to find a tarot reader or Clairvoyant. If it's a question about a dream you had, ask a Dream Interpreter. There are even some Licensed Therapists within the site to help you work through any dire situations. Everything you need is readily available.

Psychic Source has made it easy for us all. You are able to filter through all of the psychics based on what you are looking for. With each profile you are able to read a small bio, listen to messages, look at star ratings, and even reviews. All of which can help you pick the psychic you can connect with. It really helps me to hear how the person sounds before I talk to him/her. The tone of voice lets me know immediately whether I will connect with him/her or not. I also read through the reviews, all though being a Psychic, I understand there are good readings and bad readings. Sometimes it's hard to get everything into a small amount of time (which is why I say to write down your questions). There all also times where the psychic cannot connect with the person because it just doesn't click. So it is very important to pick the one you feel you can connect with and will be right for you.

I also wanted to clarify, as a Psychic; our goal is to help you find the answers you are looking for, yes! But most prominently, we want to bring you the positivity you need in life to move forward for a brighter future. Sometimes this involves bad news, and we will be honest. It's not about telling you what you want to hear. We tell you what we feel is right. Just remember, we are here to help you and want to provide you with all the answers you need. Many blessings in your search!
by Indigo x8897
Share This Page
---
Leave A Comment
You must be logged in to leave a comment. click here to login
Comments