T-Pain Homeless? Grace Potter's Affair? Future Sharknados? You Won't Want to Miss This!
Published Date 8/26/2014
Category: News
---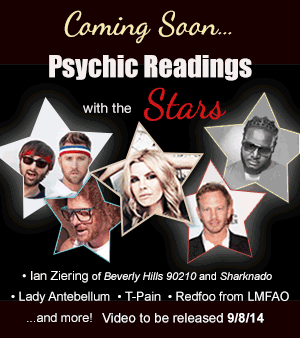 Langhorne, PA - Musicians, actors, athletes, you name it; psychic readings, are becoming quite the hot commodity. This summer, the gentlemen of Lady Antebellum, T-Pain, Ian Ziering, G.R.L., Grace Potter and Redfoo got readings from
Psychic Source
, the most trusted psychic service since 1989, revealing details about their personalities, careers and futures. From hysterical to emotional, the readings' highlights were captured on video to be released September 8, 2014.

The video divulges exciting predictions for the stars, including Grace Potter's possible future affair, the amount of Sharknado movies to be produced (according to Ziering, they've already green lit a third), and the future of T-Pain's career.

Whether you're an advocate of psychics or a complete skeptic, the video is nothing short of entertaining. There's even a blooper reel to follow.

"Many Psychic Source Advisors have read for celebrities from all walks of life, but we typically don't share because we respect their confidentiality. It's exciting and inspiring that artists such as Grace Potter, T-Pain, Ian Ziering, and others have agreed to share their experiences," says Director of Marketing, Maryanne Fiedler. "We hope this will shed some light on exactly how much you can learn from a psychic reading."

It's interesting to see how enthusiastic the stars were about the insight they received. In the video, T-Pain says he "liked it because she was keeping it positive and that's important." And during Grace Potter's recorded reading, she exclaims to Psychic Kristine, "You picked up on so much stuff and you totally gave me goose bumps!"

Ms. Fiedler adds, "It shows that celebs are people too—worried about their futures and their families."
Stay tuned for the official highlight video, Psychic Source Celebrity Readings: Episode 1, due out September 8, 2014 on PsychicSource.com
Share This Page
---
Leave A Comment
You must be logged in to leave a comment. click here to login
Comments