---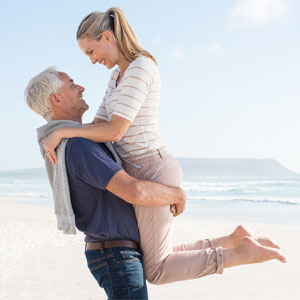 Earlier this year, we asked you on our
Facebook Page
to post your Favorite Love Stories. While we all tend to think about love and romance in February because of Valentine's Day, it is something we should be lucky enough to experience year-round. With that in mind, we wanted to publish some of the romantic, sweet, and loving stories that our Facebook fans shared with us to help spread the love today, and every day!

Jill C. - My favorite love story is my dad and my second mom. The love they had for each other was so beautiful to see. My 2nd mom always said their love was like the movie "The Notebook."
Savannah S. - My wonderful heart has been there for me when I was unlovable. His patience and understanding has shown me not all men are losers. I love my heart with a depth I never knew was possible before.

Mary Beth M. - I feel like I have loved him my whole life and shall continue to love him for eternity. I have known him since high school. We are in our 60s now but we just started dating two years ago. He is my BFF, lover, shoulder and my peace. I have never been happier in my life!

Pat B. - My husband and met in 1983 and we were married in 1987. We will be married 30 years this May. Our wedding song was "Cherish" by Kool & the Gang. I still melt every time I hear it. I love him as much as the day I married him.

Laurie B. - I met my future husband when I was only 10 years old and he was 12. I grew up with his nieces and nephews. He asked me out at the age of 17 and we got married 5 days after I turned 18. He wanted to get married on my birthday, I told him I have school (it was on a Monday) so we got married on a Saturday instead. Fast forward and we have now been married for 34 wonderful years!
Patricia T. - We dated thirty-something years ago. We still had deep feelings for each other when he found me again on Facebook a year-and-a-half ago! It's even better this time around! I love the second time around!

Elyssia H. - My favorite love story is the one my husband and I have created. We met in our high school science class 18 years ago. I always thought that he was annoying but then I started to fall for him. We have been together for 18 years and married for 12. We have three beautiful children. What holds us together is love!
We
love
to hear from you, so please share your Favorite Stories of Love and Romance below or on our
Facebook Page
.
And for more great articles all about love, relationships, and family please
Click Here!
Share This Page
---
Leave A Comment
You must be logged in to leave a comment. click here to login
Comments