---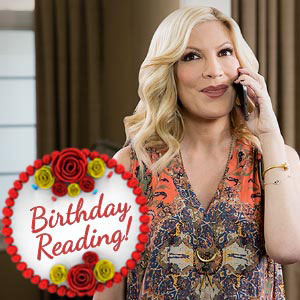 "Thanks Betty, for giving me the words I needed to step up and believe in myself and my ideas."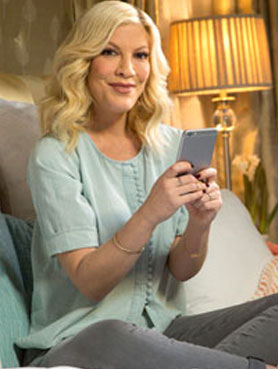 by Tori Spelling


The other day to celebrate my May birthday I decided to get a b-day reading from Psychic Source. They are my "go to" for future advice and inspiration.
I had the pleasure of speaking with
Betty (at extension 7514)
. She's a clairvoyant that works mainly with tarot cards. She was so lovely. She started off asking me what specific areas in my life I wanted to ask about and then told me she would start and see what the cards said.

I told her I wanted to first ask about career and financials. I'm a working mom of four young babes and one stepson and I wanted to see what the upcoming year would look like for us. Betty said some important, very positive changes would be coming. She said I would be making some very smart career and investment choices. That's always good to hear! Yay!

She told me that she saw three big projects coming up soon in my future, one that will be huge and two that will be good. I think I know which one she is referring to, and I agree it's going be to be big for me and my fans! She also said she saw me working a little in Europe as well. That could be exciting! She told me the "big" project would involve me acting but also producing and having a hand in the writing as well.

Psychic Betty said I often wear three or four hats. She's so right. She reaffirmed some ideas I've been sitting on and gave me that extra boost of encouragement that I needed. Sometimes in life we all know the right thing but we let others influence us and sometimes talk us out of our ideas. Betty reminded me that I need to believe in my ideas and fight for them no matter what. Thank you Betty, I will!

Next we moved to "home." She said we indeed will be moving again. All of my friends and fans know I move A LOT! But she said this next home we buy will be in our family forever. Betty said to be patient and make sure this next home has the right feelings and vibrations! She sees a home with LOTS of land. She kept seeing that with the cards. Then she mentioned lots of animals. Too funny! Because that's my dream! Big land and lots of animals for my kids to grow up with. Betty specifically said I would get ALPACAS! That's so cool. I've always wanted one. Wonder if they make mini ones? (ha ha). She also saw that I would be making a wonderful workspace in our new home. That sounds so great and something if I believe in I know I can make happen for my family. All of it!

We then moved on to "family". And Betty saw one more baby coming! OMG! I said "Betty I thought we were done! What are the odds of us having another baby?" She said it's 80% certain we will have another baby. Wow! I guess time will tell.

All in all, I had such an inspirational reading with Betty! Looking forward to my ideas coming to fruition. Thanks Betty for giving me the words I needed to step up and believe in myself and my ideas. #Grateful

--Tori Spelling
Share This Page
---
Leave A Comment
You must be logged in to leave a comment. click here to login
Comments