---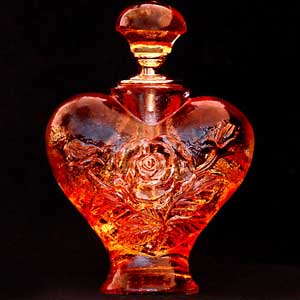 Happy Valentine's Day! Whether you are celebrating with that special guy or gal in your life, or you are solo and looking for love, it never hurts to add some romance and spice to your life. So let's have a little magical fun, and whip up some "Love Potion No. 5."

You will need the following items:
•
1 Small Glass Bottle or Squirt Bottle
•
Your Favorite Cologne or Perfume

When it is dark outside, gather all your items and sit at the table. Light your red candle, have some soft music playing in the background and REALLY think and meditate on bringing love into your life.

Your goal is to bring not just any love, but a positive, healthy loving relationship into your life. You deserve the best, so go for the best! Never settle for less than what you deserve. Think about these things while preparing your special love tonic. (Hint: the secret of this potion is in your intention. Open your heart to love, focus your mind on the positive, and set your intention to experience the feeling. That's where the manifestation process starts. The rest is for fun!)

Once you know the kind of love you want and the characteristics you are looking for in a partner, start to prepare your love potion.
1)
Take five petals, one from each rose.
2)
Put each petal into your bottle (you may need to roll them to fit them inside).
3)
Sprinkle some red glitter into the bottle
4)
Add five squirts or five drops of your favorite cologne or perfume
5)
Top off the bottle with olive oil.

Now you're ready!

Simply dab the potion on your pulse points (wrists, neck, behind the ears) whenever you are wanting to bring love into your life. You may also wish to put some on your pillow and sheets to dream of your special someone! If you give a Valentine's card to your lucky person, make sure some of your magical Love Potion No. 5 is on that as well.

And don't worry, if you've already discovered the person you want to be with forever-- there has never been a better time to fall in love all over again with your partner.

Be creative! Have fun! Believe! Declare that 2015 is your year for true love!
Share This Page
---
Leave A Comment
You must be logged in to leave a comment. click here to login
Comments