---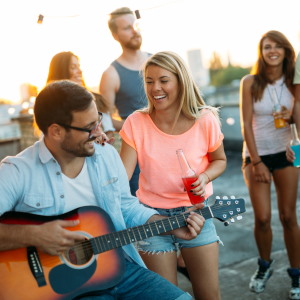 Making friends was as simple as hopping on the teeter-totter as a child, but the world of adult friendships can feel more like a roller coaster than a day in the park. Loneliness is a real issue for modern adults. Though you may feel alone, you're certainly not. Many adults are looking for friendships. You just need to reach out and extend your hand to find them.
Join a Group
Meetup groups and Facebook groups offer a fast, clickable way to find potential friends. Whether you're a foodie interested in tasting your way around town or an avid hiker who wants to trek through the woods, you can find people with similar interests in the vast landscape of the internet. Once you've joined, actively comment and interact until you find an event that you're ready to attend. Your online connections can give you a head start when you finally get to hang out in person.
Attend Local Events
Scour local calendars for events that interest you. You'll meet other wine lovers at a winery festival, find like-minded music lovers at a small live performance, and see artistic faces at a painting workshop. Though you may have to attend alone at first, a friendly attitude and willingness to strike up a conversation will leave you with some strong possibilities for lasting connections.
Try an App
Despite the stigma of some dating apps, there's a lot of great friend potential in apps designed for platonic purposes. Consider downloading Bumble BFF or Hey! VINA to your phone. You can swipe through potential besties, chat comfortably via text, and eventually make plans for a public meeting. If you need some extra insights into whether a new contact is authentic, chatting with a video psychic may help.
Spend Time in Public
It's difficult to meet new people if you spend all your time at home. Start hanging out in public places. Drink your coffee in the shop rather than getting it at the drive-thru. Read your book on a park bench and not the couch. While you're out, stay open to finding friends. Smile at strangers. Compliment people who share your style. If you're worried about your social skills, a psychic chat may help you brush up and identify prime opportunities for new connections.
Stay in Touch
Once you've made a connection, it's crucial that you stay in touch so you can nurture the seeds of friendship and help them grow into something strong. Get a phone number or Facebook info for new people that you meet and be proactive about extending invitations. Look for public events you can enjoy as you get to know one another. Reach out often to check in and chat. Prioritize your friendships and they'll grow into the strong connections you're looking for.
Though it's intimidating to seek new friends as an adult, know that you're not the only one doing it. Your openness will often be just the thing a nervous loner was hoping to find.
Share This Page
---
Leave A Comment
You must be logged in to leave a comment. click here to login
Comments