---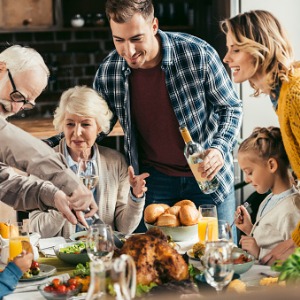 Thanksgiving is the ideal time to show gratitude to your family and loved ones, but that doesn't mean you should save your thanks for the holiday. Learn why you should always be thankful for your family, and discover how to give thanks all year.
A Lasting Bond
While you can certainly choose your friends, neighbors, and co-workers, you never share quite the same connection with them as you do with your family. From parents and siblings to grandparents and cousins, you share a lasting bond with your family members. Throughout every high and low point of your life, from birth to death, you can always depend on and give thanks for those lifelong links you share with family members.
Unconditional Support
Every family has a different way of showing support, but one aspect always remains the same: Your family is always there for you, offering unconditional support. Your family might question your decisions or recommend you do things a different way. As authentic psychics know, however, that doesn't suggest a lack of support. As long as you're doing what makes you happy, your family is there to back you up, and that's something you can appreciate year-round.
Built-in Teaching and Guidance
When you spend your life around great teachers, it's easy to assume you were born with excellent manners, incredible charm, or the ability to smooth over any situation. In most cases, however, your grandparents, parents, or aunts and uncles taught you those essential life skills, whether or not you realized it. Not sure who to thank for teaching you everything you know? The next time your family members demonstrate the skills you've picked up over the years, thank them for guiding you along the way.
Motivation to Be Your Best
Life doesn't always go according to plan. Sometimes it seems like the odds are stacked against you, and no matter what you do, everything goes wrong. When you feel like giving up completely or changing course and following an easier path, your family is there to cheer you on. Whether your family offers verbal encouragement to do your best or motivates you by helping you through the toughest times, let your gratitude shine.
Endless Fun and Laughter
Support, guidance, and encouragement have helped you get where you are today, but chances are your family offers something a little more lighthearted, too. After years of seeing your family members grow, stumble, and overcome even the most challenging obstacles, you have at least a few shared stories and inside jokes. If your family knows just how to make you laugh or poke fun at you, be thankful that you share deeply meaningful memories with those you love.
Whether you're thinking ahead to Thanksgiving or you simply want to show more gratitude for the simple things in life, giving thanks for family is always in season. Chat with a psychic online for more insight into effective ways for showing your love and thanks for family.
Share This Page
---
Leave A Comment
You must be logged in to leave a comment. click here to login
Comments