---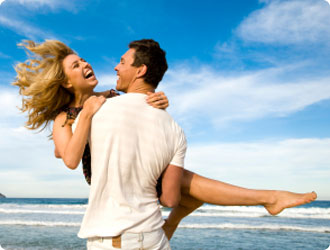 In this life, fear is a negative emotion and love is a positive emotion.
I receive a lot of calls based on relationships. So far, I have yet to see a perfect relationship without any arguments or problems. Relationships are all about trust, communication, and working together to build a life together. Every person is unique in their own way, so of course there are differences, and eventually those differences clash. It's all in how we deal with these issues that keeps the relationship alive.

We are all looking for love. However, I've noticed that there is a fear within everyone when it comes to love. Why do we have this deep rooted fear inside of us? We are afraid of being hurt, and we have a fear of experiencing heartache. In fact, I feel everyone can relate that this is the worst possible pain we can experience (we don't feel good when the heart chakra closes off). It's not easy to heal from a broken heart. Some have this fear more so than others because of past experiences, but all of us have it on a different level. Including me!

In this life, fear is a negative emotion and love is a positive emotion. Any medium who deals with the spirit world has dealt with positive, negative, and ugly. Any medium will tell you, negative spirits will feed off of these fears as will any negative person. Therefore we have to release our fears. We want the positive emotion to shine through us, and we all want to find our "True Love".

My advice is to take your time. Spend time with your significant other before you jump into this thing called love. Know that when you enter any relationship you are taking a big risk of having to experience heartache, whether it's for the first time, or again. What we experience are life lessons only to make us stronger and smarter for the next go round. So if you are experiencing a broken heart, know that it is for a reason. Take your time to heal and find out what it is you learned from the situation (this is the positive you need to move forward so you don't make the same mistake again).

I am a visual person, so I now have a "letting go" ritual for the end of a relationship. I will write down all that made me feel bad, everything I learned, and what I am looking for in the next relationship on a piece of paper. Next step is to take it outside with a ceramic bowl and burn everything I have written (within the bowl). Last, sprinkle the ashes over Mother Earth (By doing this you are signifying grounding your emotions for healing). Each relationship we experience is different from the one before. We don't want to miss out on the chance of finding our "true love" by carrying our past hurt into our fresh start. After all, a new person had no effect on the past and can only affect the future!

Share This Page
---
Leave A Comment
You must be logged in to leave a comment. click here to login
Comments