---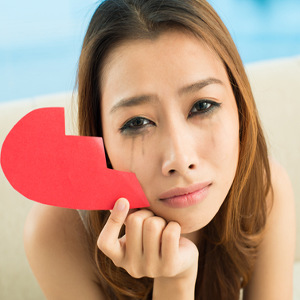 Neil Sedaka famously sang that breaking up is hard to do. Few people would argue with the famous New Yorker's sentiments, but what many don't realize is that it's possible to turn a broken heart into a positive experience. Here are five ways to move beyond the hurt and get on with your life.
Accept the Pain Involved in a Breakup
There's no getting away from the fact that breaking up with someone special hurts. It's a pain that some liken to a loss similar to death. There are no shortcuts. To move forward, you need to allow yourself to feel the pain. If you don't, you run the risk of having to deal with it later on. Go ahead and cry it out, punch a few pillows, and scream if you must. You'll feel better for it. Affirmations may be able to help you through the process.
Make Use of Newly Available Time
It's easy to forget about your own needs when you're in a relationship. Why not use your breakup as an excuse to focus on yourself for a while? Whether you fancy a new wardrobe, a completely different style, or want to take up a new hobby, now is the perfect time to do it. Redirect all that love and attention you would have given your partner toward yourself and reap the rewards.
Take the Chance to Reinvent Yourself
Seizing the chance to reinvent yourself is not the same as saying there is something wrong with how you are now. Rather, it's an opportunity to change the little things that bother you. Perhaps you've put on a few pounds, or you're not as fit as you'd like. Take some time to nurture yourself, and indulge in a love tarot reading for more insight. You'll find that this makes you look better on the outside and feel better on the inside.
Remember That You're Not Alone
While the seven-year itch used to represent a trigger point for many couples, one UK survey found that the average length of a relationship is now just two years and nine months. This doesn't mean that you'll never find the one for you, but it does show that you're not the only person to go through this. Seek support from friends or have a chat with an online psychic. It may help you to put things into perspective.
Think of It as a Life Lesson
Any life experience has the potential to make you a stronger person, and the breakdown of a relationship is no exception. Give yourself time to think about what you have learned from your relationship, and you may surprise yourself. Without placing blame, perhaps you can identify things you could have approached differently. The next time you meet someone special, you'll be focused and ready to travel a new path.
Breaking up with someone you thought you would spend the rest of your life with is never fun. There's no getting around this. Encourage yourself to think positively, and you may just turn your loss into a gain.
Share This Page
---
Leave A Comment
You must be logged in to leave a comment. click here to login
Comments