Famous Haunted Sites
Date 10/28/2018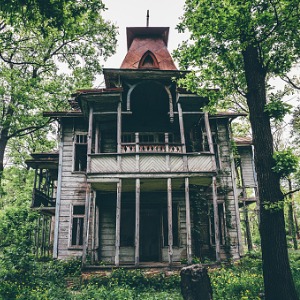 Whether or not you've personally encountered ghosts, you can't ignore the strong paranormal presence that emanates from some of the more notorious locations around the globe. From Pennsylvania to India, discover six famous haunted sites where psychic mediums and particularly attuned visitors often spot spectral residents.
Eastern State Penitentiary, Pennsylvania
When Eastern State Penitentiary was built in 1829, this unique prison was designed to keep inmates in solitary confinement. Prisoners spent almost every minute of their days alone, rarely interacting with others. Many people believe this isolation caused prisoners to go mad, and taking a ghost tour could give you the chance to meet some spirits that continue to haunt the penitentiary today.
Lizzie Borden House, Massachusetts
Accused of brutally murdering her father and stepmother in 1892, Lizzie Borden has captured the imagination of ghost hunters for over a century. In Fall River, Massachusetts, you can visit the home where the deed took place and stay in the room where the Bordens were killed. Many guests of the macabre Lizzie Borden Bed & Breakfast have reported seeing and hearing apparitions over the years.
Salem, Massachusetts
As the home of the infamous Salem Witch Trials, Salem, Massachusetts, has many haunted sites that the victims continue to visit centuries later. Whether you time your visit around Halloween or you tour the city any other time of year, you won't want to miss haunted sites like the Lyceum Bar and Grill or the House of Seven Gables.
The Stanley Hotel, Colorado
If you've ever read "The Shining," you know the horror story that this hotel inspired. Stephen King based his bestselling book off his spooky experience staying at The Stanley Hotel, but he's far from the only person who's encountered spirits here. Book your stay at this turn-of-the-century hotel for your chance to see the ghostly maid of room 217 and many more resident spirits.
Bhangarh Fort, India
Known as India's most haunted ghost town, Bhangarh Fort is tucked away in Rajasthan. Once a bustling small city brimming with temples and palaces, Bhangarh was cursed in the late 18th century. The city's residents abandoned the area shortly after, and today, paranormal activity is highest in once-busy areas like the city's former marketplace.
Poveglia Island, Italy
Located just off the shores of Venice, beautiful Poveglia Island hides a dark secret. In the 14th century, this isolated spot served as a quarantine area for plague sufferers, most of whom didn't live long enough to leave again. Six centuries later, the island housed an asylum for mentally ill patients. Many unsettled spirits are believed to haunt the island, likely searching for comfort or peace.
Whether you're planning to visit one of these sites or you're simply curious about ghosts, you can learn more by taking with a clairaudient. With their ability, clairaudient psychics can hear energies and hidden truths that may not be audible to you.