Meditate and Escape with Psychic Source's Exclusive Coloring Book
Date 7/29/2021
Explore More: Meditation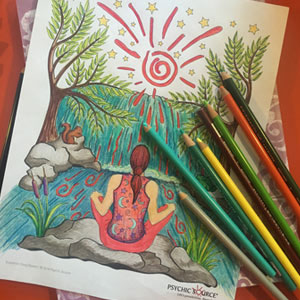 Download and Print your own exclusive Psychic Source Coloring Book Page Here.
A new and exciting hobby that has arisen is adult coloring books. These have become a fun way to release tension and help get rid of nervous energy. There are many adult coloring books to choose from, including those with healing symbols to encourage peace and emotional healing.
Adult Coloring Books: A New Art Therapy
Art has always been known as a very therapeutic way of getting out emotions. Adult color books are an easy way for adults who never felt they were very artistic to relieve their stresses. Without having any big artistic flair, people can have an easy escape. People dealing with ailments including depression, anxiety, and PTSD find coloring to be an easy, quick, inexpensive way to heal their emotions and get rid of negativity in their lives.
What Are the Benefits of Adult Coloring Books?
While before just a children's activity, adults are now seeing all the positives of coloring. The fact that it is very simple yet effective is appealing to adults with hectic schedules. Some who have been hesitant to try art because they feared they had little or no skill find that by simply staying in the lines and using the colors of their choice, they have a healthy outlet for their inner emotions. The adult coloring books give people a chance to focus their energy on something other than the normal stresses they come across on a daily basis.
Healing Symbols and Adult Coloring Books
According to our psychic network, one of the reasons these coloring books are so therapeutic is the fact that they feature healing symbols. Whether we realize it or not, many symbols have the power to evoke our emotions. Love, peace, and tranquility are some of the feelings we experience when we see different symbols. The unique shape and design of symbols are as appealing to us as the colors we use to color them.
Mandala Symbols in Adult Coloring Books
The mandala is often displayed in coloring books. The word is Sanskrit for, "that which encircles a center." The symmetrical form of the mandala generally draws attention to its infinite circle and its indefiniteness. Mandalas are attractive to people because they are circular in shape, representing wholeness and harmony, something we seek. An online psychic may encourage using mandalas in art because they represent our unconscious selves and all the different layers we have.
How Does Adult Coloring Encourage Healing?
Emotional and energy healing is imperative not only to our internal well-being but our physical well-being as well. When used in art therapy, attention gets focused on the geometric designs of image to color. The act of coloring itself is very relaxing and peaceful. Each page has its own special symbolism and meaning, too. When coloring, we become relaxed and open to new, positive energy, increasing our ability to make better decisions. Using many different colors helps to bring out hidden emotions and gets our attention away from the every day distractions and disturbances.

To print your own exclusive Psychic Source Coloring Book Page:

Download Here

Want to see more Psychic Source coloring book pages? Leave a comment below and let us know!