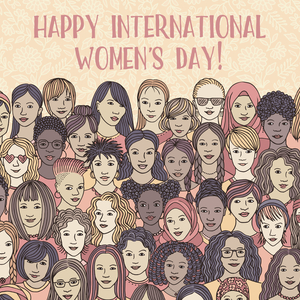 International Women's Day, March 8th, is a powerful time for women to advocate for their rights and celebrate the progress they've made through history. Before we celebrate just a small sample of these inspirational women, let's start with a look at the history of International Women's Day.
The First National Woman's Day
The first National Woman's Day took place in the United States on February 28, 1909. The date was set by the Socialist Party of American in honor of the 1908 worker's strike which drew 15,000 women into the streets of New York City to call for better pay, shorter hours, and voting rights.
The Rise of International Women's Day
At the 1910 International Conference of Working Women in Copenhagen, participants voted unanimously to adopt an international day for women. It was decided that on this day, women around the world would press for their demands for equality. This conference included more than 100 women from 17 countries.
The next year, in 1911, Austria, Germany, Denmark, and Switzerland celebrated International Women's Day on March 19.
International Women's Day in Russia
Russia celebrated International Women's Day for the first time in 1913. Russia chose the last Sunday in February, coinciding with the American tradition. Following global discussions, the date was moved to March 8, where it remains to this day. International Women's Day first moved to March 8 in 1914. On that date, a London march in support of women's suffrage took place from Bow to Trafalgar Square.
The United Nations Adopts the Day
In 1975, the United Nations celebrated International Women's Day for the first time. It took over two more decades for the United Nations to adopt themes in line with women's rights. In 1997, the UN celebrated "Women at the Peace Table" as its annual theme. This was followed by "Women and Human Rights" in 1998 and "World Free of Violence Against Women" in 1999.
Now we proudly celebrate International Women's Day on the 8th day of March every year around the world.

Let's honor the event this year by taking a look at 5 powerful women who taught us that anything is possible.
Bessie Coleman
The daughter of an African American maid and Native American sharecropper, Bessie Coleman was one of 12 children in her family. Bessie was turned down by U.S. flight schools due to her gender and ethnicity, so she went to France and in 1921 became the first female African American pilot as well as the first female Native American pilot.
Eleanor Roosevelt
The longest-serving First Lady of the United States, Eleanor Roosevelt advised, "Do what you feel in your heart to be right — for you'll be criticized anyway." She was a champion of both women's rights and African American rights, serving as First Lady from 1933 to 1945 and later becoming a United Nations spokeswoman.
Irena Sendler
Irena Sendler bravely smuggled 2,500 Jewish children out of the Warsaw Ghetto between 1942 and 1943. In bold defiance of Hitler's regime, she issued false documents for the children and found non-Jewish families to adopt them and keep them safe from the Nazis.
Indira Gandhi
Indira Gandhi has been the only female prime minister of India. She served from 1966 to 1977 and again from 1980 until she was assassinated in 1984. During her time in office, she created the 1972 Simla agreement which ended the war between India and Pakistan.
Kamala Harris
In 2017, Kamala Harris became the second African American woman and first South Asian American ever to become a United States Senator. Underneath President Joseph R. Biden, she was elected as the Vice President of the United States in November 2020, making her the first woman to serve in this role.
Female figures like these remind us that gender can't hold women back when they're determined to reach their goals. Set your intentions and you can achieve anything. 
International Women's Day is the perfect time to connect with your source and reinforce your personal power. Use this day to celebrate your divine feminine nature.