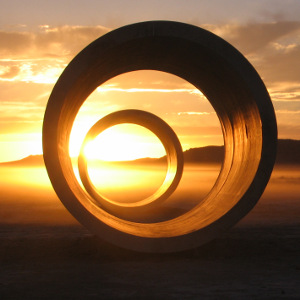 Each year, the summer solstice marks the longest day of the year and welcomes sun lovers to embrace the changing of the seasons. Whether you love large community festivals or more intimate events, there are plenty of ways to rejoice. Celebrate the summer solstice one of these light-filled ways.
Make a Solar Wheel
The solstice is the perfect time to honor ancient traditions like making a solar wheel. Centuries ago, many festival goers rolled flaming solar wheels through fields in celebration of the solstice. Bring your celebration into the 21st century by creating a DIY solar wheel in the form of a wreath bedecked with hopes and wishes for the year. At the end of the evening, toss the solar wheel into an outdoor fire and focus on making your wishes come true.
Build a Bonfire
Even without a solar wheel, a bonfire is the ideal way to celebrate the solstice and bring together loved ones. Dance around the fire, enjoy the sense of community, and cast wonderful smelling summer herbs into the fire as you make wishes for the year to come.
Create a Sun Mandala
If you prefer a more meditative approach to the solstice, set aside an afternoon to create a sun mandala. Follow an established circular pattern or create your own using colorful flower petals and other natural objects. Keep a positive vision in your mind as you create the mandala and fill it with kind, generous thoughts.
When you complete your creation, don't let your good thoughts stop. Continue to think positively as you connect with an online clairvoyant to form a clearer vision of what good things are in store for you in the coming year.
Join a Community Event
Throughout the U.S., you'll find a variety of events celebrating the summer solstice. Join the large midsummer celebration party in New York City; the intimate community bonfire on Casper Mountain, Wyoming; the Swedish Day festival in Geneva, Illinois; or the summer solstice walk in Tucson, Arizona.
Don't Forget the Sunscreen
No matter how much you love summer, don't forget that excessive sun worship can cause serious sunburns. Make a point of always applying sunscreen before going outdoors and use a water-resistant one with a sun protection factor (SPF) of at least 30.
Don't skimp on the sunscreen, either. Use about one ounce to cover all exposed parts of your body, and don't forget to apply sunscreen to your neck, ears, feet, and other exposed areas. Continue to apply sunscreen every two hours, and reapply after swimming or getting sweaty. Doing this only takes a minute or two, but shielding yourself from the sun will help you keep your skin healthy for many solstices to come.
Whether you're planning a large celebration or a few quiet moments of introspection, use the summer solstice to center yourself and open yourself to renewed growth. To learn more about what the summer season might bring, accurate psychic predictions can help you anticipate opportunities that may present themselves this summer.

And be sure to check out our Psychic Source Facebook Page on June 21st for a special event to mark the Day of Light!
Share This Page
---
Leave A Comment
You must be logged in to leave a comment. click here to login
Comments