---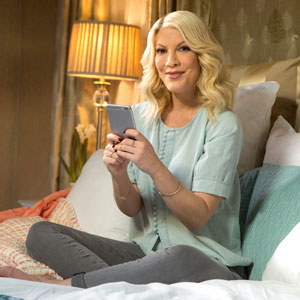 Tori Spelling has enjoyed receiving psychic readings for a long time.
Psychic Source recently announced that its spokesperson is Tori Spelling. The actress and entrepreneur is known for her 10-year stint on "Beverly Hills, 90210," as well as her forays into reality television and her bestselling memoirs. The mother of four also regularly consults psychics for guidance on her life and to connect with her deceased father, famed film and television producer Aaron Spelling.
A History With Psychics
Tori Spelling sought guidance from psychics long before she formed her latest partnership with Psychic Source. She wrote about her experiences with psychics in one of her memoirs, "Uncharted terriTORI" and has frequently referenced psychics in her media interviews and in articles she's posted to her popular lifestyle blog.
Many people gain insight, knowledge, and support through conversations with online psychics. Such a relationship can help you confront deep-seated fears, cope with stress, work through grief, and make decisions about your life's direction. Tori Spelling clearly finds value in her relationships with psychics, and she has expressed a desire to encourage her followers and fans to explore this fascinating opportunity for growth.
Coping With Grief
Tori Spelling was quite close to her father, who passed away in 2006 at the age of 83. In addition to their father-daughter relationship, the talented duo also worked together on multiple projects, including the enormously successful "Beverly Hills, 90210." According to the Huffington Post, Tori has hired psychics in the past to help her connect with her father.
For instance, medium Rebecca Rosen has counseled Spelling on at least one occasion. During their session, Rosen received information about coins — a revelation that proved significant, thanks to Spellings's anecdotes about her daughter finding a coin that she called magic.
Promoting a Healthy Lifestyle
A quick glance at Spellings's blog reveals that she firmly believes in a holistic, healthy lifestyle. She frequently posts recipes and tips for healthy food, and she advocates healthier fare over fast options filled with empty calories. She also shares her efforts to remain fit and trim.
Of course, a healthy lifestyle extends to mental and emotional health, as well. Spelling believes that psychic services can help people obtain peace of mind and make healthier, more pragmatic decisions. Whether you're facing difficulty at work, questioning your lifestyle choices, or confronting a parenting issue, an experienced psychic is just a phone call away.
Joining Tori
As Tori continues to work with Psychic Source, she will share her experiences on her blog and in other media. If you're interested in consulting psychics for your own personal guidance, you can let her know on social media or comment on her blog. Of course, if you prefer to keep your experiences private, that's completely understandable.
The important thing is to follow in Tori's footsteps. Living a healthy life and seeking advice when you need it can help you achieve your goals and find peace in your personal life. Whether you're interested in connecting with a medium, a tarot reader, a clairvoyant, or another professional, you'll see what Tori means about the benefits of using a psychic.
Share This Page
---
Leave A Comment
You must be logged in to leave a comment. click here to login
Comments