Celebrating Summer Solstice -- The Longest Day of the Year
Published Date 6/20/2020
Explore More: Summer Solstice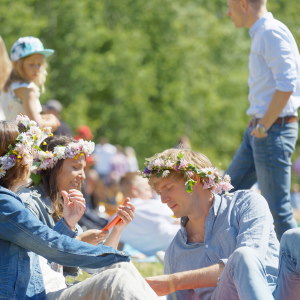 The summer solstice, also known as midsummer, is the longest day of the year. This has been a popular time for celebrating in numerous cultures. As the peak of summer approaches, take some time to think about the fun ways that you can enjoy this celebratory day.
Have a Feast
The summer solstice is a great time to celebrate with friends and family. Plan a festive feast in honor of the longest day of the year. Focus on foods in bright sunny colors and round sun-like shapes. Consider building a menu with summer squash, heirloom tomatoes, peaches, and nectarines. Dishes grilled over a fire are ideal for this holiday as well.
Create a Mandala
Spirals, wheels, and mandalas are associated with the summer solstice because they resemble the sun. Make a spiral or mandala out of items gathered in nature such as flowers, herbs, shells, and stones. This can serve as the centerpiece of a social celebration or a quiet meditative activity you do alone.
Look to the Future
The summer solstice is a powerful time for a tarot reading that's focused on love. Amorous energies are running high, making it easier for you to get a glimpse into the future of your romantic life. This is a good time for a psychic love reading as well. You're likely to get special omens about the one you're meant to be with.
Light a Bonfire
In many cultures, bonfires are believed to ward away evil and protect crops. Midsummer festivals also feature these fires as a striking centerpiece for celebrants to dance around. Celts jump over the bonfire to burn away their problems. Lighting a bonfire is a great way to gather your friends for a summer celebration.
Make a Wreath of Flowers
In Poland, Ivan Kupala Day is celebrated on the longest day of the year. Women make wreaths of herbs and flowers and float them down the river. The man who picks up the wreath is said to be her future husband. A Swedish midsummer tradition is to wear a floral wreath on your head. However you use your accessory, this is a timely tradition for the peak of summer.
Enjoy the Outdoors
The summer solstice is all about celebrating the sun, making it the ideal day to get out and enjoy some of the abundant sunlight. As the longest day of the year, it offers you plenty of opportunities to enjoy lengthy activities. Consider going for a big hike, taking a dip in the lake, or enjoying a canoe trip.
However you choose to celebrate the summer solstice, make sure you take some time to appreciate the warmth and nourishment that the sun provides. The long daylight hours that are available make it possible to enjoy nearly any type of celebration or activity in grand style.