Make Kindness a Priority, Not an Option
Date 10/5/2020


Health risks, fear, anxiety, and uncertainty. School closures resulting in parents juggling work and childcare. Lost jobs and small business closures.
This is just a glimpse into what millions of Americans have experienced due to the COVID-19 pandemic. Many of our community members have turned to food banks just to put dinner on the table. We knew we had to do something, but what?
Ending Hunger
After some digging, we learned about the Feeding America network which, simply put, works to end hunger today. Their website reveals a shocking statistic: "Due to the coronavirus pandemic, 54 million people may face hunger in the U.S. during 2020 — including more than 18 million children. Hunger knows no boundaries — it touches every community in the U.S., including your own."
This was our answer. Prior to April 2020, Psychic Source's Kindness Initiative donated over half a million dollars to select charities that focused on making a difference in the world. In April and May, we redirected our Kindness contributions to Feeding America, resulting in $30,797.44 raised to help their cause.
In partnering with this incredible organization, we discovered that they're the largest domestic hunger-relief organization with 200 food banks and 60,000 food pantries. Even more astounding, Feeding America has served 1 in 7 Americans!
We still have a lot of work to do.
We're proud to contribute to this cause and help communities, families, and individuals affected by COVID-19, but there's still much to do. This is why we ask you to continue being a Kindness Advocate. You don't have to donate money or time to promote kindness. Being kind is free! In fact, we know that many of you are struggling with personal and professional hardships. But kindness is contagious, and the more you can do to release positivity, boost empathy, improve relationships, and increase feel-good vibes, the happier YOU will be!
Get Inspired
Looking for ideas? Check out our new Kindness-in-a-Click Generator. You can make a difference with just the click of a mouse or the tap of a finger. Get inspired and share kindness stories with our community. If we stick together and love one another, we can make a tremendously positive impact.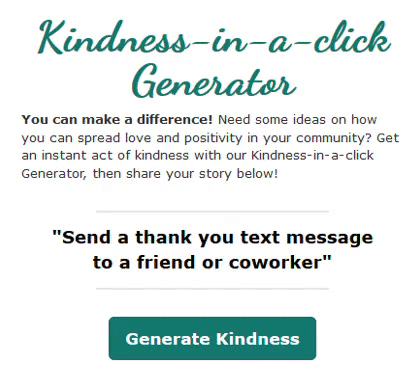 For over 30 years, Psychic Source has been helping customers by providing wisdom and guidance to achieve their best selves. But we knew we could do more. With your help, we can touch the lives of others across the globe with the Psychic Source Kindness program and the great charities you can help support with your purchases.
We thank you for your compassion, gratitude and help making the world a better place.