Half a Million Reasons to Celebrate Kindness with Psychic Source
Published Date 1/15/2020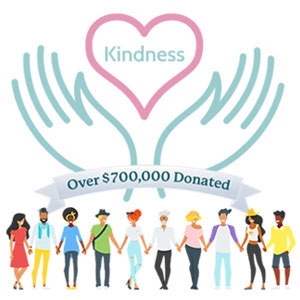 Companies celebrate milestones all the time…

"We've been in business for 30 years!"
"We hit our one millionth customer!"
"We're excited to announce the debut of a brand-new product!"
You get the idea. We all agree that milestones are important recognitions of progress, success, profit, or achievement. But this year, we're celebrating something near and dear to our hearts—something that's made a profound impact on organizations and individuals that span outside the Psychic Source community. Through the
Kindness Initiative
,
as of June 2021, we've officially surpassed $700,000 in total donations to three incredible charities
and we can't thank our customers enough for their support!
What's the Kindness Initiative?
We've always placed compassion and peace at the top of our priorities. We truly believe every living thing deserves nothing but love and respect. To touch lives through more than just psychic readings, we started a program where we donate 1% of customer purchases to those in need. Customers pay nothing additional—just select a charity and we do the rest!
Who Receives the Donations?

Customers can choose between:
Futures Without Violence
FUTURES
develops innovative ways to end violence and educate people everywhere about the importance of respect and healthy relationships. Our donations help to move their education programs and policies forward, specifically for young individuals in the college/university setting. Our hope is to increase awareness and protection for those subjected to violence and abuse.
Paws With A Cause®
National Center for Housing & Child Welfare
Our contributions to the National Center for Housing & Child Welfare (
NCHCW
) have directly impacted their commitment to guaranteeing that each young person who ages out of foster care has access to permanent housing and the connections they need to successfully enter adulthood. In 2019, with Psychic Source's support, NCHCW worked with the U.S. Department of Housing and Urban Development (HUD) to institute a new initiative to ensure foster youths will never age out of foster care and into homelessness.
Read about the incredible progress made this year.
Get on Board
Now you can see why we're ecstatic that we've been able to provide $700,000 (and counting!) to these remarkable organizations! If you've yet to elect a charity,
simply log in to your account and make your selection
, it's never too late. Remember, there's no additional cost to you. So as long as you continue to get readings, we'll keep paying it forward on your behalf! Let this be a reminder to put kindness first—every single day—because there are always others who are less fortunate. Whether it's a donation, a grand gesture, or a simple smile, we can brighten the lives of others and make this world a better place.