---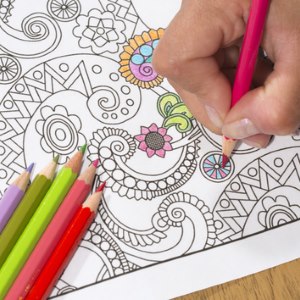 When you were a child, you likely spent hours at your kitchen table with a coloring book and a box of Crayola crayons. While it might have seemed no more significant than a way to pass the time, coloring actually offers several mental and physical benefits — both for children and adults.
Art Therapy: A Form of Artistic Meditation
Journalist Dana Dovey of Medical Daily describes the healing power of artistic pursuits, explaining that coloring and other forms of art therapy help people focus their thoughts.
Essentially, adult coloring books offer a form of focused meditation. Instead of attempting to clear your mind or to focus on an internal image, you concentrate your thoughts on the silhouette in front of you and the colors with which you fill the empty spaces.
Adult Coloring Books: A Fresh Trend in Meditation
Over the last couple years, adult coloring books — specifically those that involve intricate patterns — have seen a sharp rise in popularity. Writing for The Atlantic, Julie Beck admits she thought adult coloring books were frivolous and silly until she spotted one in a store and refused to leave without it.
While adult coloring books might seem trendy now, they offer real benefits. Practitioners experience decreases in anxiety, depression, and frustration when they sit down with a fresh page and a set of colored pencils.
Colorful Stress Relief: Meditating With Coloring Books
Coloring books offer one more benefit for adults (and children): they don't require guidance or supervision. You don't need to take a class or watch a how-to-video. If you've ever clutched a crayon in your determined fist as a child, you can color now.
If you need stress relief, you can meditate starting now. In addition to consulting online psychics and seeing a therapist, you can use meditation to get a handle on your emotions and to conquer your frustrations.
Coloring Success: Getting the Most From Adult Coloring Books
Don't worry about coloring inside the lines or creating a Louvre-worthy work of art. Instead, focus on each individual stroke of the crayon, marker, or colored pencil.
Sense of Play: Coloring for Enjoyment
While meditation offers a significant benefit of adult coloring books, don't discount your sense of play. Spend an hour coloring to indulge your creative side and to foster an appreciation for the result.
In many ways, meditation and play walk hand-in-hand. You're releasing other thoughts from your mind so that you can focus on an enjoyable task.
Meditation and Meaning: Deriving Purpose From Coloring
Just as a psychic medium can help you divine truths about your present and future, meditation can help you find meaning in your daily struggles. When you release negative thoughts and focus entirely on your coloring book, you might gain access to key insights when you least expect them.
Adult coloring books might seem like a fad now, but they're continuing to gain steam. Adults all over the world have recognized the benefits of devoting time to themselves — and to meditation.
Share This Page
---
Leave A Comment
You must be logged in to leave a comment. click here to login
Comments