2021 - 2022 Sagittarius Horoscope
Published Date 11/22/2021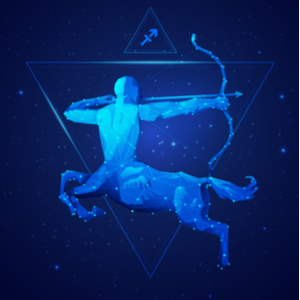 By Suzi x8046
The Sun enters Sagittarius on 11/21/2021. As holiday cheer arrives, so does the fun loving spirit of the astrological fire sign of Sagittarius. They are travelers of mind, body and spirit. They need freedom to love and grow, so talented and easy-going partners are a must.
This year it is late spring 2022 when the flame of Sagittarius sparkles and certain restrictions begin to fall away.  This is a peek of the bounty that awaits you the following year in 2023.
MONEY and CAREER
Your finances have been going through major change over recent years. This is transforming
how you make money, your resources and investments. It has been a slow process, you'll take a few steps forward, and a few back, but never give up. Watch out for income increases as a happy new year present.
Lucky Money Dates: 11/5/2021 - 3/6/2022 (a rare extra-long cycle) and 7/8/2022 - 8/12/2022
LOVE and ROMANCE
Sometimes you just like being single and enjoy more relaxed relationships. But in the late April/May 2022, a sudden attraction could change your mind about being single. An exciting person with a twinkle in their eyes could make you think at last a kindred spirit has arrived in your life. Smile and enjoy this special adventure.
Lucky Love Dates:  5/3/2022 - 5/29/2022 and 6/24/2022 - 7/18/2022
HOME and FAMILY
Where you live has the opportunity to expand over this coming year. Buy, sell or rent you will be looking for more space.  A lucky new start could come into your life by summer 2022. By then it will be a positive, easy choice so step forward to a good new beginning.
SPECIAL BLESSINGS
Angel Wings bring protection to your family and heritage. Real estate changes are blessed and lucky.