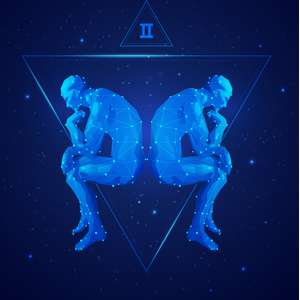 By Suzi x8046
The Sun enters Gemini on 5/21/2021. Gemini brings into our lives a wonderful child-like curiosity. They love a rich social life and are often called social butterflies. They can be snappy, smart and have the juggling of life down to an art form. Sometimes they move too fast and don't listen as well as they should. They are charmers, so watch out for their beguiling smile, twinkling eyes and sense of fun.
This year life could be transformational through other people's resources, money or influence. New choices could lead to that financial security you have been seeking.
MONEY and CAREER
There will be adjustments this year with twists and turns that push your life in a positive new direction. You may need to rethink what is right for you as shifting sands come out of nowhere. You have waited a long time to get to this point with a more solid foundation. Be brave - sometimes surprise blessing are hidden in sudden shifts in life. You will have the money you need to take care of pressing concerns.
Lucky Money Dates: 6/3/2021 - 6/25/2021 and a Rare Long Cycle of Luck from 11/5/2021 - 3/5/2022
LOVE and ROMANCE
You can expect a jump in your social and dating life. There are two people who you may have a hard time deciding between who is best for you. It will be in the late summer/early fall that you will have better clarity. Remember, you need an equal partner as smiles and giggles can only go so far in the big picture of life. Watch out for romantic holidays as you will know it all was worth the wait to get to know this special person.
Lucky Love Dates: 8/16/2021 - 9/10/2021 and 10/7/2021 - 11/4/2021
HOME and FAMILY
With all the changes with your career, this will bring forward a long-awaited dream to move or buy a home. It may take until the end of this year into 2022 as you sort out choices that fit with where you are going. The details of how and where will come together later in the Spring of 2022. Go for it, you will be glad you did.
SPECIAL BLESSINGS
Angel Wings protect any long-distance travel. Educational classes or a seminar could polish some of your natural talents. Friends bring sunshine and support when you least expect it.
Share This Page
---
Leave A Comment
You must be logged in to leave a comment. click here to login
Comments