---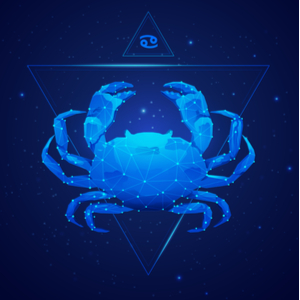 By Suzi x8046
The Sun enters Cancer on 6/21/2021. Cancer brings into our lives a love of family, children and cooking. It is also the sign of the nurse, so many great caregivers are proud to be a Cancer. Sometimes they can appear a bit tough on the outside, but they are tender inside and sincerely dislike arguments. Helping them to understand there is a safe place to work out differences will help them from becoming passive aggressive. They can be known for their great sense of humor as many comedians are Cancers.
This year could bring a surprise twist with other people's money and resources from a raise to a windfall that could transform your life. It is all about the right connections.
MONEY and CAREER
It is about being brave and reaching out with both hands for a new career opportunity. This year could open doors long wished for not only allowing you to bloom but transform your life direction. Keep an eye on the time period from now through 7/30/2021 where a peek of what is to come will present itself in a quick glimpse. Then after the holidays season things will be in fast forward into a brighter tomorrow. Money matters or concerns should be in the rear-view mirror, all wrapped up in a smile of hope and trust.
Lucky Money Dates: 6/26/2021 - 7/22/2021 and 3/6/2022 - 4/14/2022
LOVE and ROMANCE
You could be at the crossroads regarding a relationship and over the summer you may realize that the time has come to move on no matter how hard that maybe. Because a relationship does not go a lifetime does not mean you have failed, but simply have learned all you can from that person. Think positive and trust your angels to nudge someone new your way. As the holidays arrive, laughter and a mature heart brings the sure and steady to you. Watch the details as hopes and wishes come together letting you know 2022 is really going to be a good year.
Lucky Love Dates: 9/12/2021 - 10/7/2021 and 11/5/2021 - 3/5/2022 (and an extra-long luck cycle for you)
HOME and FAMILY
Looking ahead to 2022, you may be thinking a move or new home could be a good thing. Whether you move or upgrade your space, changes are good for you. If you are single you could consider moving in with that special someone but either way your living space will improve. It is not always easy for you to let go, but in this case 2022 smiles on you so go for it!
SPECIAL BLESSINGS
Angel Wings bless your money world well into the future as your definition of home moves to that special place just where you want it... enjoy!
Share This Page
---
Leave A Comment
You must be logged in to leave a comment. click here to login
Comments