---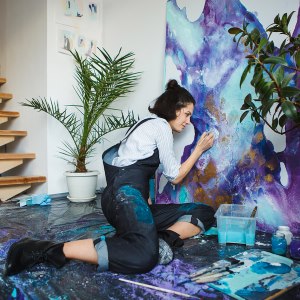 Many of us think creativity belongs solely to those in visual and performing arts, but the truth is, we are all creative. If you've let creativity take a backseat, it's time to wake up your dormant creative side. Being creative brings so many benefits to you and the world.
Creativity Solves Problems
Creativity isn't only relegated to crafts and hobbies. It's something we use every day at work. How often have you been encouraged to think outside the box when a problem comes up in the workplace? The terms "creative thinking" or "creative problem-solving" are bandied about in the boardroom. There's convincing evidence that the most successful businesses are the ones where people approached problems and ideas creatively.
Creativity Is Therapeutic
Many counselors and therapists are aware of the benefits of creativity in therapy. Using your hands to design, build, or create something is tactile, and there's something calming about this. It also helps people express and heal from painful hidden emotions. Even journaling is cathartic and an excellent form of private therapy. Writing takes all the clutter out of our heads and puts it down on paper. When we do that, we see the bigger picture of our lives more clearly.
Creativity Helps Others See You
You may grapple with profound questions like: Does my life matter? What will I leave behind in this world? You feel invisible. When you create something, you are allowing others to see your unique qualities. Writing a poem, sketching, or starting a blog puts your thoughts, ideas, and feelings out there. People see it and respond. Friends and family discover things about you they never knew before. If you can overcome the fear of vulnerability, this is a very freeing experience.
Creativity Strengthens Intuition
The best psychics will tell you psychic ability, intuition, and creativity are interlinked. This link is particularly evident in songwriters, artists, or writers who create incredible works and then wonder where their Inspiration came from. People in creative arts are naturally intuitive, but often with little or no awareness of it. They just go with what they're feeling or sensing. You too can strengthen your creativity by tapping into your intuition; and a stronger intuition will help you in every other area of your life.
Creativity Is a Gift to the World
You'll be surprised where a new creative hobby can take you — whether it's baking decorative cakes at home or taking pottery lessons. Your newfound creative pursuit may turn into a full-time career or much-needed service in your community. The world needs your talents and gifts. Whatever you create is tangible and a mark you leave behind in the world. If you're not sure what your gift is, consult a phone psychic for some guidance.
Being creative is easier than you think. Every day, in some small way, you create something — whether it's writing an inspirational post for social media or trying a new recipe. You brought something into existence that wasn't there before, and that's the simple definition of being creative.
Share This Page
---
Leave A Comment
You must be logged in to leave a comment. click here to login
Comments