How to Create Your Own Crystal Grid by Psychic Izzy
Date 10/12/2022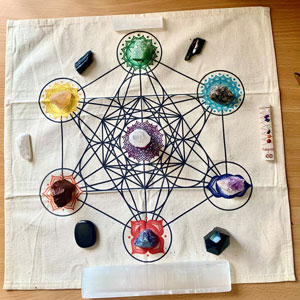 I want to talk about harnessing the power of crystals though a crystal grid. Do not worry, this does not have to be complicated. Crystal Grids are an incredibly powerful and beautiful way to manifest your dreams, goals and intentions. They are also amazing healing tools. The power of a crystal grid comes from the combined energies of the crystals you use, how you lay them out and the intentions you set. 
Invite the universe to support you in creating a desired result. Keep in mind, though, that the universe likes to provide us with what we need, not just what we want. So, it's best to focus on manifesting a need vs a want, if this is in your highest and best. Just be careful with timing and expectations. Deep breaths, divine timing. Common intentions that people use for crystal grids are for well-being, abundance, healing and protection.
I prefer to use my own intuition and work with how I feel guided with the crystals and grids. If you want inspiration, there are many options online and in stores. I find the most powerful healing and manifesting comes when I go with my gut feelings and what resonates deeply with me. Crystal grids come in a variety of materials including cloth, board or a piece of paper with Sacred Geometry. These patterns are believed to increase the power of the grid. You can also choose to add pieces of nature, like leaves, shells or flowers in the grid. This is a great way to start when you don't have a lot of crystals. I incorporate elements of nature into my grids as I feel inspired. So please don't let limited crystals stop you.
Steps to Create a Personal and Powerful Crystal Grid
1. Set your Overall Intention for the Grid. For this example, "I desire a grid for Balancing My Chakras."
2. Choose a sacred geometry shape and form that aligns with your purpose. I choose a Chakra Grid. Another lovely and universal pattern that's used commonly is Flower of Life.
3. Choose the stones you want for the grid and be sure they are cleansed. You may select them according to listed properties in books or articles online, or you can choose the crystals intuitively. Commonly you start with one stone for the overall theme or intention of your grid. This is the central or anchor stone. Be sure to place this stone with intention. As you're placing the crystal onto the grid template, say your affirmation either out loud or silently to yourself.  Note: you can place a written intention beneath this stone at the very center of your crystal grid as well.
Place the remaining stones around the central anchor stone. Make sure to follow the shape of your chosen crystal grid template.  Place them exactly along the lines of the shape you've selected. Proper alignment of the sacred geometry shape is necessary for proper energy flow. As you are placing each of the remaining stones, state your intention for them. What energy do they bring to the grid? Do this either out loud or to yourself. These stones will support the main focus or intention for your grid but should also work to further define your unique situation.
I recorded a video for Psychic Source on creating a Chakra Crystal Grid you can reference, which is empowering and Healing. I will share with you some crystals/gems/stones that align with each chakra for easy access. Choose with mindfulness and intuition. You do not need them all, lol. 
Base Chakra: smoky quartz, bloodstone, ruby, hematite, agate, amethyst, onyx, diamond, garnet, fluorite, garnet, black obsidian, red jasper, carnelian, black tourmaline, tiger's eye, black onyx, moss agate
Sacral Chakra: carnelian, agate, quartz, orange calcite, garnet, carnelian, orange topaz, fluorite. diamond, tiger-eye, amber, orange moonstone, sunstone, goldstone, aragonite star clusters, tangerine quartz
Solar Plexus: Citrine, emerald, topaz, amber, calcite, tiger's eye, pyrite, yellow jasper, yellow topaz, agate, yellow tourmaline, lemon quartz, sunstone, bumblebee jasper, golden heliodor, yellow tiger's eye, yellow aventurine
Heart Chakra: green aventurine, rose quartz, ruby, emerald, green jade, peridot, green tourmaline, malachite, green calcite, diamond, rhodochrosite, prehnite, amazonite, malachite, rhodonite, chrysoprase, 
Throat Chakra: sodalite, aquamarine, turquoise, fluorite, tanzanite, lapis lazuli, alexandrite, angelite, blue lace agate, blue kyanite, blue apatite, azurite, amazonite, chrysocolla, blue chalcedony, Celestine, larimar, blue calcite
Third Eye Chakra: amethyst, lapis lazuli, clear quartz, moonstone, lolite, sapphire, labradorite, tanzanite, sodalite, azurite, black obsidian, citrine, lepidolite, purple fluorite, black tourmaline, kyanite, turquoise.
Crown Chakra: selenite, quartz point, clear quartz, amethyst, rhodonite, alexandrite, lepidolite, howlite, labradorite, sugilite, white agate, fluorite, lapis lazuli, moonstone, charoite, white calcite 
4. To activate and enhance the energy of the grid, you may use a clear quartz crystal or Selenite to link the energy of all the crystals within the grid. Activation is most effective if you visualize each of these connections as lines of white light, linking the energy of each individual stone into one cohesive unit.
5. Make time to connect to the energy of your grid regularly. You may want to meditate in front of your grid each day for a few minutes, or just sit in the presence of your grid to fill you up with the energy you're trying to create in your life. Just be sure to hold space in your life for transformation in whatever form is for your highest good. After you've created your grid and are using it, make sure notice the changes you experience. This will help you to track your progress and growth.
I surround you with peace and clarity to gain from your crystal grid what is in your highest and best. Namaste.
I leave you with a larger view of my own, personal crystal grid!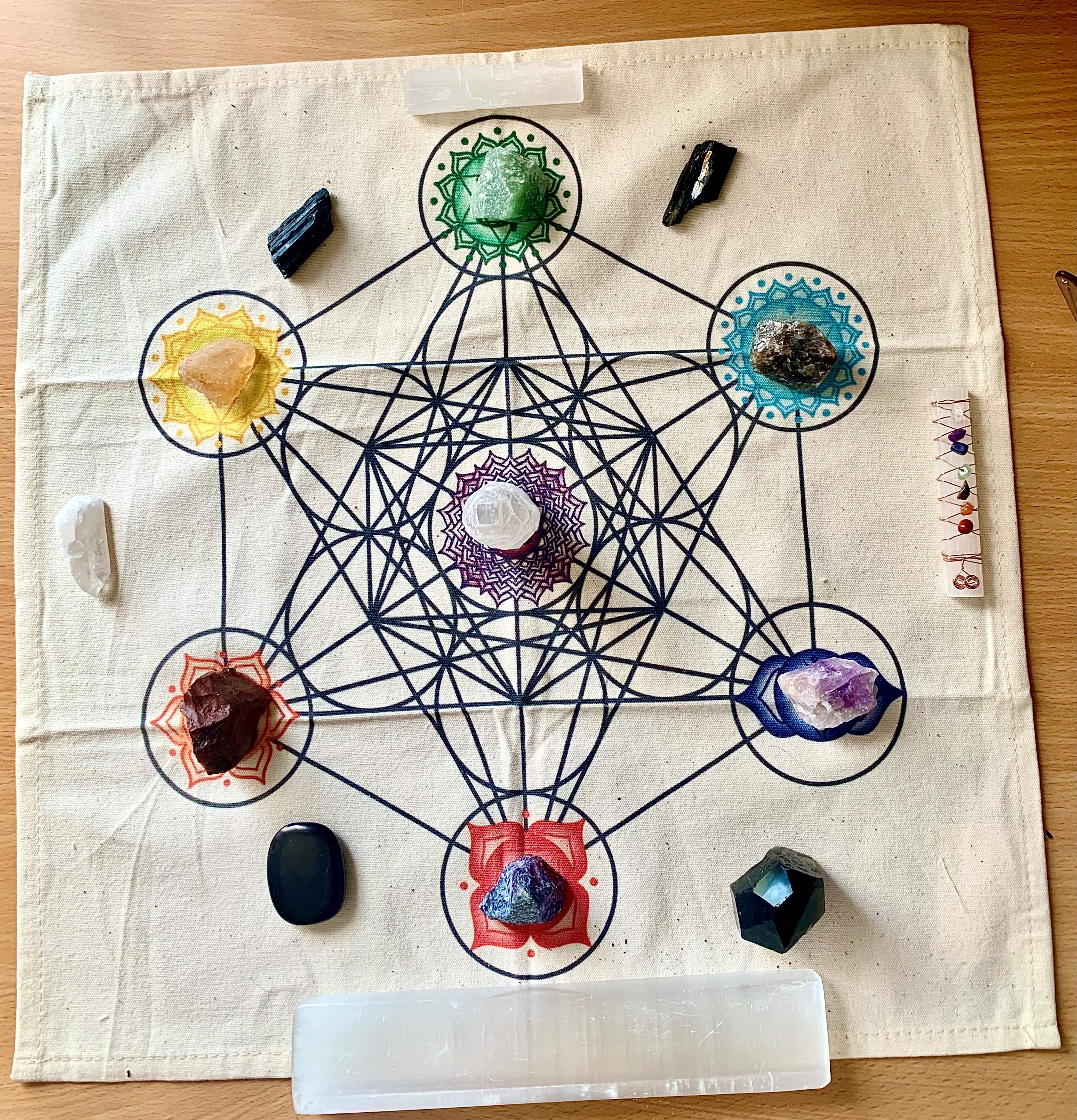 Get a Reading with Izzy x9366
Izzy supports and empowers you. She is direct, insightful and compassionate as she tunes into your energy. Izzy has worked in this profession for more than a decade. She is a college graduate and a graduate of Enwaken Energy Coaching. Izzy is a Reiki Master and has extensive trainings and certifications in the fields of metaphysics, communication and intuition. Izzy is also a Pet Psychic, speaks to those who have crossed over and can help to locate lost items. Bring your questions and concerns, and she will shine a light on your path forward.