---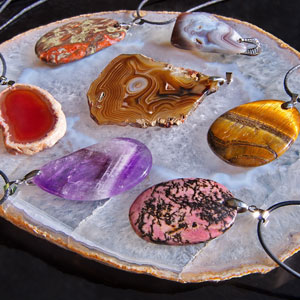 Crystals are absolutely amazing to work with. They can help us in all walks of life. Many people often view crystals as rocks or gemstones to simply make beautiful pieces of jewelry, but did you know they also have remarkable abilities? Each type of crystal is different because it targets specific needs. Some of the most common areas that crystals help us in are: health, love, relationships, finances, work, traveling, finding a new job, family issues, getting rid of negative energy, and much more.

A Carnelian Crystal Confidence Boost
Recently I spoke with a woman having some problems with her job. She was required to speak in front of a large group of employees twice a year in the conference hall. Just the thought of doing that made her nervous, even nauseous. She was embarrassed because her voice would quiver at times. She felt certain that a couple of her female coworkers made fun of her behind her back.

I suggested she wear a piece of Carnelian as a necklace, bracelet, or earrings, or even put one in her pocket. I told her the Carnelian might help to give her strength and courage, while motivating her to succeed at what she had to do. She decided to do this and to her surprise, she felt more confident than ever before going into the meeting, which led her to be much calmer. She did fantastic and was even complimented by her boss. He asked if she was taking some type of public speaking classes. Her secret is safe with me.

The Power of Amethyst
A few years ago, my aunt gave me the history of the beautiful pieces of Amethyst she had collected throughout her marriage to my uncle. As a child growing up, I would see it everywhere in her home, and she had the most extraordinary piece that had a permanent place on her nightstand. Her husband was a career Navy Officer, and often brought back jewelry from his travels. She had Amethyst everywhere, and she wore it almost every day in some form of jewelry. She told me about how thankful she was that her health had always been so good, and she had always slept like a baby. She was fit as a fiddle still, and her mind was sharp as a tack at age 95. I have no doubt the amount of Amethyst she was around daily, played a big part in her healthy lifestyle.
Crystals have been around for millions of years, they are natural and of the earth. Do some research on the healing properties of crystals,
they just may change your life for the better.
Discover more about the power of crystals and other resources with our free Energy Healing Guide.
Share This Page
---
Leave A Comment
You must be logged in to leave a comment. click here to login
Comments