---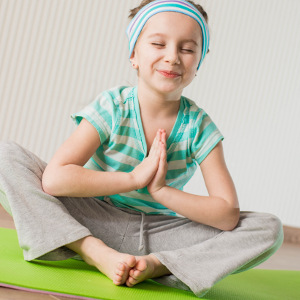 Thousands of adults take yoga classes and do yoga routines at home. Kids as young as 18 months can also take part in some form of yoga, but many parents don't pursue it. Consider the following benefits of yoga for kids when deciding whether to start your children in this type of program.
Kids Learn to Enjoy Both Active and Passive Activities
Every parent witnesses the boundless energy with which kids approach everyday activities. When it's time for story time or nap time, children resist quietude with every fiber of their being. Yoga teaches kids to enjoy passive activities as an alternative to constant activity.
Kids Learn How Their Bodies Work
If children grasp the power and strength of their bodies, they can excel in all aspects of their lives. Yoga prepares them for sports and other physical activities. It also helps them use their bodies and their energy more efficiently and safely. When kids do yoga, they learn to listen to their bodies if something feels wrong or out-of-place.
Kids Learn Discipline and Humility
Every child demonstrates different strengths and weaknesses in yoga practice. Kids learn to accept themselves and each other without reservation and to appreciate the qualities that make them unique. Since yoga doesn't encourage competition, children enjoy the opportunity to grow without comparison to others.
Kids Learn to Calm Themselves
Instead of relying on a parent or caregiver to foster security and peace, kids learn how to bring it about themselves. Through intentional breathing and guided meditation, children develop a more holistic perspective on life, which enables them to care for themselves.
Kids Learn Balance and Coordination
Children often suffer from the gangly lack of balance and coördination from infancy all the way through their teens. If they practice yoga, they find it easier to tackle other physical activities without fear of losing their balance. Yoga also teaches kids not to beat themselves up when they fall; they learn to pick themselves up and try again.
Kids Learn to Develop Confidence Through Self-Mastery
A parent or yoga instructor can't perform a pose for the child. Instead, the child learns how to work toward a goal until he or she reaches it. Whether it takes a few minutes or several months, the sense of accomplishment shows kids that they can meet their goals through hard work and perseverance — a lesson they can use in all other aspects of their lives.
Kids Learn the Value of a Healthy Lifestyle
From video games to fast food meals, kids face more temptation than ever to engage in unhealthy practices. Yoga shows children how they benefit from healthy pursuits — they learn their bodies and minds feel stronger and that they can reach goals more easily. Often, this awareness bleeds into the rest of their lives.
Along with other mindful activities, such as consulting an online psychic or getting a tarot reading, yoga offers great benefits for both the mind and the body. Kids can take advantage of those benefits just like adults.
Share This Page
---
Leave A Comment
You must be logged in to leave a comment. click here to login
Comments