6 Tips to Help You Find the Right Career
Published Date 3/14/2016
Category: Career And Finances
---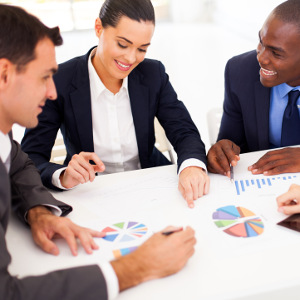 A work environment that suits your own skill set can be the difference in a successful job.
Thinking about switching jobs? Whether you're looking for a career switch to improve your finances, get a change in work environment, or pursue your passion, there are a few things to consider before making the leap.
Think About What You Love
If you've talked about switching jobs with friends and family, you've probably already been told to find your passion. But determining what excites you and makes you want to get up and go to work every day truly is essential. Passion will keep you going, even if other aspects of your job get tough.
Know How You Work
That said, passion isn't the only thing to consider when job hunting. Even if you love something, it's not always right as a career. Considering your work style will help set you on the right path. Think about whether you're self-motivated to carry out goals without supervision, or if a structured work environment will help give you the discipline you need to succeed.
Do the Math
Before you dive into a new career, take the time to think about and set financial goals. No matter what you're doing, you won't feel good about your job if you can't earn enough to keep you near your financial needs. Speaking with an online psychic can help you find what's most important to you. If you want an exotic vacation home, for instance, you may need to compromise a bit and find a job that gets you there.
Likewise, decide if you need to go back to school for your dream job. Then decide if it's really worth the cost. Some jobs may need a college or graduate degree, but you don't want to pay or borrow money if you're not going to come close to making it back down the road.
Use Your Networks
The people you already know are a great resource for finding a career path that is fulfilling and fits with your needs. Use social networks liked LinkedIn or just have a chat with someone you think has a cool job. Even people you don't know well will often be happy to sit down for a brief chat about the good and bad sides of their career choice.
Get to Know the Work
If you have the resources to support yourself in the meantime, take the time to get experience in the work environment you're considering before you commit. Opportunities like job shadows or internships can give you invaluable insight into what work would be like every day.
Tap Into Your Talents
What are you skilled at doing? Hobbies and talents can turn into successful, fulfilling careers. Talk to a phone psychic if you're stuck on finding your own talents. If you love something and you're good at it, you're already on your way to a successful career.
So many people settle on a career before thinking about what will really make them happy. By considering your needs and desires from all angles, you'll find a career path that truly leaves you fulfilled.
Share This Page
---
Leave A Comment
You must be logged in to leave a comment. click here to login
Comments